The bleak poetry of "Winter's Bone."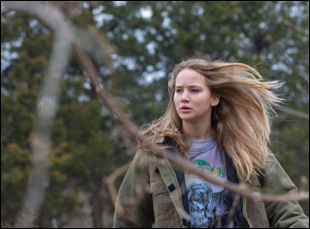 Posted by James Rocchi on
Reviewed at the 2010 Sundance Film Festival.
Screening in the U.S. dramatic competition at Sundance 2010, "Winter's Bone" brings to mind a number of prior Sundance highlights. Like "Frozen River," it depicts a woman driven to hard choices by hard circumstances; like "Brick," it sets a teen protagonist into a thoroughly modern set of problems that might be better described by the scenes and structures of classic film noir. Like director Debra Granik's previous Sundance film, 2004's "Down to the Bone," it depicts a very American kind of poverty, one not only of economics but also of emotions. Based on the novel by Daniel Woodrell, "Winter's Bone" has more than just the echoes of other films to offer, though. It has the forward motion of a thriller, yes, and the who-knows-what questions of a mystery. But it also has a delicacy to it, as 17-year-old Ree (Jennifer Lawrence) searches for her absent father while caring for her younger siblings and ill mother, and director Granik, shooting with the RED digital camera, wrings bleak poetry out of the ruined landscape of the Missouri Ozarks.
Ree is not looking for her absent father in the general sense, or to heal some past wound; local Sheriff Baskin (Garret Dillahunt) explains to Ree that her father Jessup, arrested for cooking crystal meth, put the family home up as his bond – and then disappeared. If he doesn't appear in court in a week's time, Ree and her family will lose everything: Baskin says to Ree, "Make sure that your daddy knows the gravity of this deal," but Ree doesn't know where he is. And no one will tell her. Trapped in the silences and secrets of the local criminal underworld, Ree goes to family and friends and neighbors and enemies, knocking on doors and seeing what happens like a Chandler hero, motivated by nothing less than survival.
Ree's inquiries go nowhere – even with her uncle Teardrop (John Hawkes), a whipcord-lean thug whose capacity for violence is terrifying. Almost all the men Ree encounters are terrifying – tight-wound with silence, lashing out when it breaks – but the women around her aren't much different, and, like Ree, trying to deal with the men in (or absent from) their lives. Lawrence's performance is strong and unstudied, but it's also clearly constructed; Ree is headstrong, but not foolish, and she's only putting herself in harm's way because the consequences of failure are worse.
Granik and cinematographer Michael McDonough shoot with flat, this-is-what-happens authenticity (with the exception of one black-and-white hallucination, where squirrels twitch and shiver in the woods as the sound of chainsaws fills the air), but also wring myth and majesty from the landscape. Ree walks through a landscape that looks like Lear's blasted heath with rusting pickup trucks and abandoned satellite dishes scattered casually through it; when a group of women take Ree to a place of deliverance with brutal kindness and terrible mercy, it is hard not to think of Macbeth's witches.
"Winter's Bone" takes place in a world of addiction and anger, of crime and consequence. When Teardrop decides to help Ree – as much as he can, and in his way – she moves back from the foreground of the narrative, and yet that comes precisely at the moment when we know she's done all she can. Hawkes, best known for his work on "Deadwood," is a real and rich presence here, a murderer who is still a man, a criminal who is still a brother. "Winter's Bone" shows a world where the bonds and bindings of family and community become a stranglehold, but where some light, winter-bright and seemingly bleak, can still leak through the cracks.
"Winter's Bone" does not yet have U.S. distribution.
[Photos: "Winter's Bone," Anonymous Content, 2010]