The joys of Wikipedia plot synopses.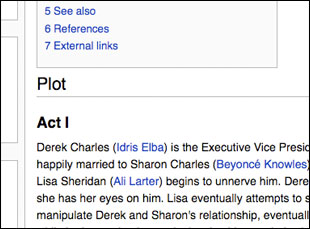 Posted by Vadim Rizov on
Sometimes I contribute reviews to "Sight & Sound," a British film magazine that includes a complete synopsis before each review. This practice frees up valuable space for actual criticism (although some people — coughStephen Holden — who are under the delusion that "reviewing" is "summarizing" would probably not dig it). Because of this, and because I can be pretty bad with plot, I take a lot of scribbled notes in the dark.
Lately, though, I've discovered that, more often than not, a complete synopsis of even the dumbest movie is soon available on Wikipedia — sometimes before the damn thing even opens. I'm not sure who this group of synopsizers are and what drives them, but they're very, very dedicated.
Sometimes, these admirably detailed synopses are laced with sly commentary. Whoever wrote up "Paul Blart: Mall Cop" was alert enough to notice that the bad guys "appear to know parkour." And sometimes they make weird interventions. Whoever summarized "Obsessed" decided it was a two-act film, as they announce in bold headings.
Not all movies receive such treatment — the further back they recede in time, the less likely they are to have detailed information, no matter how important. So Max Ophuls' "La Ronde" is noted as telling "a series of stories about love affairs or illicit meetings involving a prostitute, a soldier, a chambermaid, her employer's son, a married woman, her husband, a young girl, a poet, an actress and a count. At the end of each encounter, one of the partners forms a liaison with another person, and so on." Fair enough.
The best synopses combine a fastidious attention to detail with language only vaguely reminiscent of English. One of my favorite is actually for a TV series, the eternally banal "Everybody Loves Raymond." It takes the show's bland quirks with great seriousness: "Ray and Debra constantly have marital disagreements, with Debra frequently denying Ray sex and Ray preferring to watch sports television instead of talking to Debra about matters important to her." Later, it notes that "a recurring theme on the show has them having a long interaction each night while in bed, just before going to sleep." A theme!
But the monster epic of them all is the entry for "Garfield: The Movie." One of those disapproving flags sits at the top of the page, warning that "This article is written like a personal reflection or essay and may require cleanup. Please help improve it by rewriting it in an encyclopedic style." I disagree. This is the greatest synopsis in written history.
The opening sentence is as grammatically adventurous as Gertrude Stein: "It begins when Garfield is a fat lazy cat (voiced by Bill Murray) who lives with Jon Arbuckle, wakes up from a good night's sleep and awaits a tasty breakfast." Over the course of 12 paragraphs (!), we learn that Garfield is angry about his visit to the vet because he "previously thought he was going to Chuck E Cheese's, Wendy's, Taco Kitty or Olive Garden," and that is he is "(needless to say) not very happy now that a dog is running amuck in the house."
By film's end, "Garfield learns friendship and love, and they live as a big happy family… But all that changes when he intentionally pushes Odie off his chair over and over again. The film closes with Garfield singing and dancing to James Brown's 'I Got You (I Feel Good)'. He does a split and can't get up."
Wikipedia is an invaluable reference updated by all manner of people — the knowledgable, the pedantic, the fans, the trolls. But entries like that — somewhere between stoned tour-de-force, ESL and the completely inexplicable — are the things that please me most.
[Photos: Wikipedia entry for "Obsessed"; "Garfield," Twentieth Century-Fox Film Corporation, 2004]