Whitest Kids U' Know Season 2 on DVD Today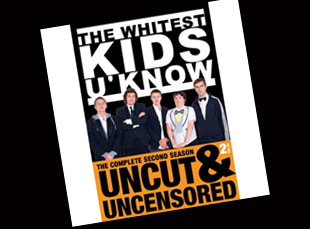 Posted by Will Weinand on
IFC's masters of uncensored sketch are back with 10 hilarious episodes from the hysterical Second Season of WKUK, available on DVD today! Continuing their campaign to expand the horizons of funny, the Whitest Kids U' Know deliver a wealth of comedy that's equal parts genius and depraved.
From smoking weed with prehistoric lizards in "Dino Rap" to satirizing the capitalization of patriotism in "Totally Gay For America", the comedy team of Darren Trumeter, Sam Brown, Timmy Williams, Trever Moore and Zach Cregger prove that there is no topic that is off-limits or subject they consider taboo.
DVD Bonus features include Audio Commentary with the entire cast on all episodes, "The Best of Season One" featuring cast intros and a Sneak Peek at hilarious sketches from season 3. So don't be accused of being a "slow jerk"! Hurry up and own it now!