We Are The World, Clay Stones, freak out.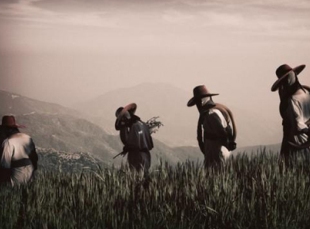 Posted by Brandon Kim on
Take cover, LA's masked dance troupe and hard beats terrorist cell, We Are The World, release the single "Clay Stones" today. Formed when Robbie Williamson and Megan Gold's band, Work, merged with choreographer Ryan Heffington and alleged former CIA agent come pro-dancer Nina McNeely – apparently to make cataclysmal electro-pop set to mind numbing dance gyrations. They made their full bore debut in the club scene with the roving dance party called Fingered.
They first dressed in custom burqas and monochromatic masks, commentaries on religious extremists (of all stripes) and you can still see the themes playing out in their live shows and videos. Like this one (below) they co-directed with Alma Har'el (Beirut, Jack Peñate). Shot in the burned up forest around Lake Arrowhead, and in a scary bedroom. It's Taliban fever dream meets New Jersey snuff film. I hate it (or do I?), but I can't look away.
The single is out today on IAMSOUND. The debut full length comes out on Manimal Vinyl April 6th.