The L.A. Times calls vampire trend dead, a weary nation rejoices.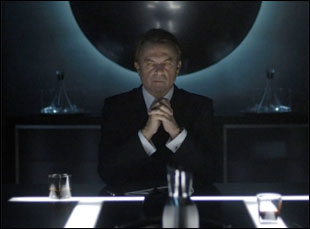 Posted by Vadim Rizov on
After months and months of breathless reporting on how vampires are to the Naughts what Bret Easton Ellis cocaine yuppies were to the '80s, someone's finally stepped up and presented an almost irrefutable argument as to why the whole trend, er, sucks.
At the Los Angeles Times' movie blog, Steven Zeitchik makes a simple, compelling case: outside the "Twilight" franchise, no cinematic vampire revivals have prospered. Take "Twilight," "True Blood" and the ever-persistent "Buffy" cultists out of the equation, and it's a landscape of underperformers and flops: "Daybreakers," "Cirque du Freak: The Vampire's Assistant," "Thirst."
In the past, vampire movies always enjoyed a healthy genre persistence, grinding along steadily without any real stand-outs (or trend pieces!). Universal's '30s and '40s horror niche, the Hammer films of the '50s and '60s, the trashy softcore '60s and '70s erotica knock-offs (like "Dracula The Dirty Old Man"), and the slasher '80s (with "Fright Night," among others.)
Zeitchik's argument is that true cultural permeation gives room for knock-offs to succeed almost as well as originals, which is totally true. Generic gas-explosion action movies were in plentiful supply throughout the '80s and '90s (and not just during summer blockbuster season), while the Naughts reveled in cloudy CGI spectacle, but it's somehow hard to envision 30-40 vampire films coming out over the next five or six years.
Another problem is that the "Twilight" and "True Blood" crews are all terribly moody. The vampires of, say, "Daybreakers" are still bad guys, which may account for the lack of interest. It seems like audiences are nuts about swoony bloodsuckers and much less keen on threatening ones, which has to be a first for the genre to date.
The glory cheapie days of the vampire — a creature of cunning and darkness — have been traded in for showy CG transformations and effects that, paradoxically, seem to look sillier the more elaborate they get. The real spectacle is the melodrama — clumsy but sincere, and apparently missing from the public's viewing diet for too long.
[Photos: "Daybreakers," Lionsgate, 2010; "Fright Night," Columbia, 1985]