The wasted opportunity of "Undisputed 3."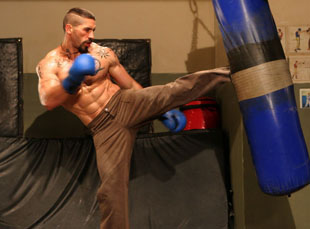 Posted by Vadim Rizov on
We're not really types to you present you with three brand-new EXCLUSIVE!!! stills of an upcoming movie, or to countdown to the premiere of a new trailer, or to chase down casting rumors. There are plenty of other blogs that do that kind of thing better.
But I'd like to point out the selection of "Five More Stills" from "Undisputed 3" over at Twitch, which amused/nonplussed me (it's funny to imagine who would be holding their breath over this one). "Undisputed 3," of course, is the third installment of the fighting-in-prison series inaugurated by Walter Hill in 2002's "Undisputed" and continued on DVD with 2006's "Undisputed II: Last Man Standing."
Aside from the poster's switch from high-falutin' Roman numerals to good, all-American Arabic numerals, there appears to be a greater connection between the latter two installments (i.e., they kept the mean Russian prison boxing character) than between the first movie and its sequel, which, as can be the case when a franchise gets downgraded to direct-to-video budgets, had little in way of continuity with the original.
But the first "Undisputed" is actually one of the Naughts' great underrated sleepers; within its self-imposed limitations, it's just about perfect. Ving Rhames plays the Tyson-esque boxer sent to jail protesting he didn't rape anyone; Wesley Snipes is the lifer and resident champ. A deal is brokered under the watchful eyes of Mafioso Peter Falk, and the final fight is everything you've been waiting for.
Hill edits for economy and punch; it's one of the more breathlessness-inducing movies I've seen from our dearly departed decade. It was also an immensely frustrating experience: distributor Miramax decided rapist-vs.-murderer lacked audience sympathy and, to his everlasting credit, Snipes refused to shoot a scene that would've made him more likable. In revenge, Miramax dumped the movie and Hill stalked off to television for a while, presumably disgusted that one of his best films had been treated so vilely.
The subsequent "Undisputed" films are, alas, all genre hambone and money-shot fights — which seems like a waste of the strong original premise. Direct-to-DVD sequels are a dime a dozen, even for decent films. But in this case, the original movie really worked in a stripped-down way a '40s B-movie craftsman might've appreciated, and to see that tossed in the trash stings a little bit.
[Photos: "Undisputed 3," New Line Home Video, 2010; "Undisputed," Miramax, 2002]