"Twelve," i.e. "Poor Little Rich Kids, Waanh-Waaaaanh"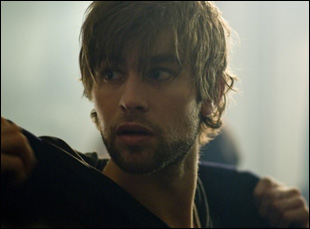 Posted by James Rocchi on
Reviewed at the 2010 Sundance Film Festival.
Directed by Joel Schumacher ("Batman and Robin," "The Lost Boys"), "Twelve" is unquestionably the funniest film at the 2010 Sundance Film Festival; if only it had been made with that intention. "Twelve"'s ham-handed ineptitude is part of the joke — on Schumacher, on audiences and on any distributor brave or foolish enough to pick it up in an attempt to turn this sow's ear into a camp classic. Based on the novel by Nick McDonell, "Twelve" follows a group of poor little rich kids on Manhattan's Upper East Side as they deal and/or do drugs in an effort to fill the emotional voids in their privileged lives. It is not merely that, in the age of "Gossip Girl" (which shares actor Chace Crawford with "Twelve"), the wicked behavior of pretty boys and girls is fairly played out; this stuff was milked dry decades ago by better writers like Bret Easton Ellis ("The Rules of Attraction") and Jay McInerney ("Bright Lights, Big City") and in better films. Lowering the age of the protagonists and upping the depravity of the conduct is not ripping the veil off of a hidden world; it's skeevy pandering, a 'How low can you go?' exercise in attention-getting.
Crawford plays White Mike, a familiar literary figure — the sad drug dealer who doesn't use, wandering the streets of Manhattan with a coat full of weed, a heavy heart and immaculately tousled hair. We first meet White Mike as our gravelly, omniscient narrator (Kiefer Sutherland) tells us exactly what White Mike is thinking and feeling in the wake of his mother's death. Our narrator will do so with every character who crosses our path — the hottest girl in school, the sensitive mama's boy, the 'roided-out rage case and even Molly (Emma Roberts), the true love of White Mike's life. But White Mike can't talk to Molly, since he's a drug dealer, and she comes from a better world than that; we know this because at one point we see her calling White Mike sitting among falling autumnal leaves in a blue gingham dress.
Much of the plot of "Twelve" involves a fictional new street drug — called, yes, "Twelve," which is apparently instantaneously addictive and a lot of fun; Schumacher shows the drug's pernicious effects in a scene where Jessica (Emily Meade) sprawls out in a fur coat and lingerie while her childhood collection of teddy bears exhorts her to go on a killing spree. I am not making this up, nor could I. As events culminate in a big blowout party that ends in tragedy, the cumulative effect is like a mix of "Elephant" and "Can't Hardly Wait," as Claude (Billy Magnussen) opens fire on the crowd at the birthday bash queen bee Sara (Esti Ginzburg) has flattered and seduced Claude's mama's boy brother Chris (Rory Culkin) into hosting while his parents are away.
Schumacher's ambitions and pretentions are in a breakneck race to the bottom here. Occasionally, for moments of even deeper portent, we'll see characters and a few stark props recreate past events against a blinding white background, suggesting Schumacher has at least heard of Bertolt Brecht, or maybe someone described "Dogville" to him once somewhere.
Schumacher, at 70, is kidding himself if he thinks he has any attachment to or understanding of the lives of real teens, and screenwriter Jordan Melamed's adaptation results in a final product that feels less like a film than a book-on-tape played over a well-shot sparkling wine commercial, as pretty things prance and cavort while the narrator's gravelly, all-knowing tones tell us of the sadness and doom they face. It's good to have it confirmed that Schumacher is incapable of making any film work regardless of scope, scale, genre or intent; from big-budget blockbusters to small indies, horror films to heartwarming dramas, he's failed in every conceivable arena. "Twelve" is one of those Sundance flops so full and complete that it's sure to be the stuff of legend; the only thing that made my laughter stop was contemplating which actual film didn't get into the Festival when Schumacher's tired, wired, "Requiem for a Gossip Girl," been-there-done-that high-gloss phony fantasy of truly bad behavior and truly great haircuts could be undeservedly elevated, literally and figuratively, by screening it at Sundance.
"Twelve" does not yet have U.S. distribution.
[Photos: "Twelve," Gaumont/Original Media/Radar Pictures, 2010]