Tim Allen vs. bobblehead Satan.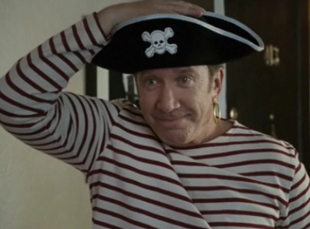 Posted by Vadim Rizov on
This Friday marks the theatrical release of Tim Allen's directorial debut "Crazy on the Outside." My relationship with Allen is somewhat conflicted. As a '90s kid, I have a soft spot for the undeniably mediocre "Home Improvement." Ubiquity has its comforts, and I was precisely the right age for the equally humdrum "The Santa Clause."
Much of Allen's post-"Improvement" career has been a mess — remember "Joe Somebody" or "Christmas with the Kranks"? — but a moment of self-awareness and clarity came with his turn in David Mamet's underseen "Redbelt." In casting Tarantino couldn't have bettered, Allen played a washed-up, bitter, alcoholic action star just financially secure enough to really flip out; unsurprisingly, he nailed it.
There's no indication that "Crazy on the Outside" will be any good — the detailed synopsis I was sent by a publicist emphasizes jokes about pirate costumes and berets (LOL?) and informs me in closing that Allen's "Tommy" "will discover that the only way to win is to be true to what's inside you, especially when it's…Crazy on the Outside." Ray Liotta plays an evil genius of video piracy, and Tommy's grandmother will only speak to him in French after she thinks he's been to France the past three years, instead of prison.
But… I will admit, though my first inclination was to snicker at the accompanying faux-viral campaign about "unpaid extras" protesting the movie, I will collude with the publicity machine this time. Like the campaign for, say, "Cloverfield," there seems to be more going on in the minds of the marketers of "Crazy on the Outside" than the makers.
What it consists of is a bunch of bobblehead dolls — all of whom have Twitter accounts — plotting their revenge against Tim Allen, who has apparently defrauded them of their rightful wages. After all, even Jeanne Tripplehorn is getting paid! "We'll get our money from Tim Allen if my name isn't El Diablo," the Satan bobblehead swears. Soon the sumo wrestling dolls are twirling while chanting for Allen's death and a goat is bleating and…well, okay.
Wish I knew who to credit with this progressively surreal endeavor. Part one's below:
[Photos: "Crazy on the Outside," Freestyle Releasing, 2010; "Tim Allen Scandal Part 3," YouTube]