Scorsese talks 3D, restoration at the LACMA deathmatch that wasn't.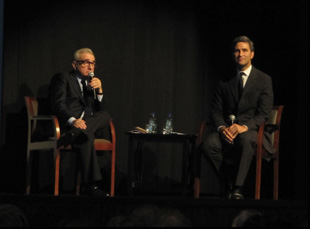 Posted by Stephen Saito on
For the L.A. cinephiles who were secretly hoping that Martin Scorsese was going to take a note from the Rupert Pupkin playbook and tie up L.A. County Museum of Art CEO and director Michael Govan until he would agree to restore some luster to the museum's film program, the great director's visit to LACMA's Bing Theater on Wednesday night to discuss the role of film at museums was a bit of a disappointment.
However, Govan acknowledged the reason Scorsese was in Los Angeles had "something to do with last summer," referring to his plans to shut down the repertory film program in August before getting "some tomatoes lobbed by e-mail," an outcry from both Angeleno film fans, and an open letter by Scorsese in the L.A. Times with the headline "I am deeply disturbed." Oddly, Govan's opening remarks were about as far as the conversation would wade into the largely unresolved status of the program, which is still running, but is due to run out in June if the museum can't raise $10 million to fund it on an ongoing basis. (Part of the proposed solution is a Film Club membership program.)
As Scorsese wrote in his letter to the Times, it was a 20th Century Fox retrospective at LACMA that sparked his interest in film restoration – but for all the wrong reasons. At a Marilyn Monroe double feature of "Niagara" and "The Seven Year Itch" during the early '70s, Scorsese, former Time critic and frequent Scorsese collaborator Jay Cocks, Stephen Farber and others walked out of the theater when the print of "Some Like It Hot" was so faded they couldn't bear it any longer. "We were crushed," Scorsese lamented before showing a faded print of Frank Tashlin's "The Girl Can't Help It" to demonstrate the problem.
Scorsese then brought out a sparkling clip of "The Red Shoes," the Powell-Pressburger classic that his Film Foundation recently restored and has been making the rounds, including a Film Forum run that Scorsese admitted was sold out to the point even some of his friends missed it. (Apparently, it will be making a return appearance in New York.) Since the Foundation started in 1991, they've saved over 525 films, but that didn't stop Scorsese from sharing some horror stories about his days scouring for the best prints around during the '70s — for screenings of a 16mm IB Technicolor print of "Red Shoes," he said, "Parties were organized. Deals were made. Thousands of dollars going back and forth." And when he was looking for a print of Visconti's three-hour 1963 Palme D'Or winner "The Leopard," he was told simply "there's not enough room" at a storage facility.
On the actual topic at hand of films place in a museum, Scorsese mostly spoke of the impact he believed film had on other art forms, citing how "Picasso and [Georges] Braque attend[ed] movie theaters in Paris and to a certain extent, led to cubism and you can see many of the paintings do appear to have been influenced by projectors themselves" and that Andrew Wyeth "became obsessed with 'The Big Parade.' There's a scene at the end where John Gilbert comes home, he's got one leg and he's on the hill and [Wyeth] kept painting that hill. And there's a 16mm film made in the '70s where [director King] Vidor goes to visit Andrew Wyeth and it's quite something. Just image after image of that hill." (Senses of Cinema has a great article about this.)
As for film's influence on other artists, Scorsese said, "It's been difficult in the past 80 years, 90 years to accept [cinema] that way because it was made as an entertainment… Like a nickelodeon or a real film, after it was shown, there was no other place to show it, they'd burn it up to get the silver out of the nitrate. So it's always had a stigma of being an art for the masses, but yet it has been so influential and so natural to come out of painting and photography." He later added, "I think master painters were always aware of what came before them…You always have continuity with the past. I don't know how we can develop new artistic energy without an understanding or an exposure to the beauty of the work of the past. Otherwise, we're just dealing with the immediate image. One sees a lot of television, for example, and the images are so fast, they mean nothing any more."
One shouldn't take that last remark to mean that Scorsese is shying away from new technology, he mentioned that during a recent trip to Egypt he was talking up the possibilities of shooting in 3D: "I said 'I really would [like to shoot in 3D] and one of the [filmmakers I was talking to] pointed to space [motioning between the screen and the audience]. I said, you're right, I would have to know how to utilize that space in the script – when to use that [camera] move or when to reveal that thing in 3D. Now, I don't know if I could do that. But I said maybe my daughter's generation will. They'll just know by naturally because of the technology they have at their disposal.
Much to the delight of the crowd, he continued, "When I was a kid, we didn't have access to cameras or anything, I drew pictures for movies. So I had a pencil and paper. That was it. Now, our little one was making a film last Friday. They wanted to end it with a pie fight. I said, don't do the pie fight in the house. But apparently, they did. So I said, 'look, if you want Thelma [Schoonmaker, Scorsese's frequent editor] to edit it for you, you know…'"
Besides pleasing his daughter, one could probably hear the "hell, yeah" of those who have railed against excessive film grain like Hollywood Elsewhere's Jeffrey Wells when Scorsese took a question from the audience about whether restorations should stay true to a film's original presentation or the filmmaker's intent. Scorsese pointed to legendary cinematographer Jack Cardiff in his response, saying, "I think in certain films in certain sections, [filmmakers] would've liked it better if the grain was less. They would've liked it better if the internegatives didn't look like dupes. And we just have to settle. They had to settle. And I think to a certain extent, they would've liked it cleaner… I happen to like grain because I'm used to seeing it, but when I see it cleaned up, it's a whole other experience."
As for the films that Scorsese's World Cinema Foundation is currently cleaning up, he mentioned that they're working on developing a feature on their Web site to take suggestions from around the globe for possible restorations, but said that they're currently working on the 1964 Romanian drama "Forest of the Hanged," Visconti's "Senso," Edward Yang's "A Brighter Summer Day," Uday Shankar's 1948 comedy "Kalpana," and "Redes" a 1936 Mexican film co-directed by "High Noon" helmer Fred Zinnemann to add to their collection of films that can be seen for free on The Auteurs. He also told the amusing story behind the restoration of "Dry Summer," a 1964 Turkish drama that struck a chord with "The Edge of Heaven" director Fatih Akin as a young man. Akin then had to travel to Istanbul to persuade the film's producer to hand over the only print of the film from his closet and wasn't easily convinced since the last time someone had it, they intercut horror footage into the picture.
At the end of the evening, Govan, in true Hollywood fashion, asked for a sequel to their discussion. Indeed, Scorsese agreed to an encore.
[Photo: Martin Scorsese and Michael Govan, photo taken by Stephen Saito; "The Red Shoes," Eagle-Lion Films, 1948; "The Big Parade," MGM, 1925, and Andrew Wyeth's "Christina's World," used without permission, "Dry Summer," Hitit, 1964]