"The Runaways," Joan Jett and Cherie Currie come of age.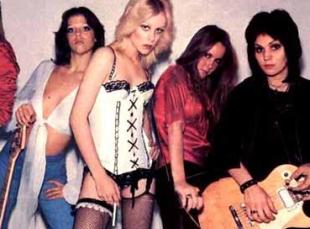 Posted by Brandon Kim on
"I like your style, a little Bowie, a little Bardot," the impresario record producer says to Cherie Currie when he introduces her to Joan Jett. The two girls would go on with Lita Ford and Sandy West to form the legendary chick band, "The Runaways."
The biopic helmed by music video director Floria Sigismondi premiered at Sundance this weekend. The film focuses on Joan Jett embodied by Kristen Stewart ("Adventureland," "Twilight") and Cherie Currie, played by Dakota Fanning ("New Moon," "Charlotte's Web") as they kick their way past adolescence and into rock stardom.
Michael Shannon ("Before the Devil Knows You're Dead") portrays producer Kim Fowley who manhandles the teens into an international rock machine in 1975. Dig:

The introduction scene from The Runaways."

The Runaways – Cherry Bomb
Update:
IFC's Sam Adams reviewed the film's treatment of the girl's sexuality, "Teenage sexuality has always been the wellspring of rock and roll, but the Runaways made themselves the aggressors, concocting an unstable mixture of empowerment and exploitation. Floria Sigismondi… has the story's girl-power framework well in hand."
But qualifies, "She crams Fanning into Currie's famous corset, and stages a passionate kiss between Currie and Jett before compressing their romantic relationship into a single softcore montage, but the movie is too tasteful and glossy to thoroughly embody the Runaways' quasi-pedophiliac appeal."
Of the increasingly impressive Stewart he writes, "Her emotions seem to pour out of her without passing through the filter of self-consciousness, an astonishing openness that can be mistaken for a lack of technique. As Jett, she's both available and impenetrable, a surefire recipe for rock stardom."
The film opens nationally on March 19.