Fanning, Stewart grow up fast in "The Runaways," if not unpredictably.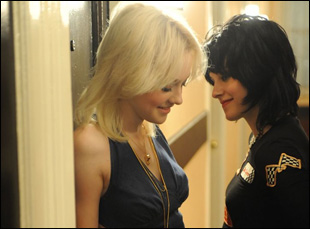 Posted by Sam Adams on
Reviewed at the 2010 Sundance Film Festival.
Coming-of-age movies are Sundance's stock in trade, but few announce themselves as boldly, and broadly, as "The Runaways," whose first shot is a splotch of menstrual blood hitting the pavement. Said splotch emanates from Cherie Currie (Dakota Fanning), a suburban California teenager with a burgeoning David Bowie obsession and a surly sensuality just beginning to bloom.
Teenage sexuality has always been the wellspring of rock and roll, but the Runaways made themselves the aggressors, concocting an unstable mixture of empowerment and exploitation. Floria Sigismondi, who directed music videos for Marilyn Manson, Christina Aguilera and the White Stripes, has the story's girl-power framework well in hand. But in spite of that opening drop, the movie's evocation of the Runaways' rise and fall is short on the juices that make for great, trashy, disreputable rock. She crams Fanning into Currie's famous corset, and stages a passionate kiss between Currie and Jett before compressing their romantic relationship into a single softcore montage, but the movie is too tasteful and glossy to thoroughly embody the Runaways' quasi-pedophiliac appeal.
As much as for its characters, "The Runaways" is a rite of passage for its stars: Fanning, attempting to move beyond her preternaturally placid juvenile roles, and Kristen Stewart, whose volcanic Joan Jett runs hotter than the brooding teens she's played in, well, everything.
Fanning's occasionally eerie poise has left actors several times her age in awe, and she has no trouble stepping into the lead spot. The movie is organized around the relationship between Currie and Jett, to the virtual exclusion of the band's other members — Scout Taylor-Compton, as guitar goddess Lita Ford, is generally little more than a scowling presence on the edge of the frame — but it's tilted in Currie's favor, which is not surprising given that Currie's memoir is credited as the source material for Sigismondi's script. Her escalating substance abuse and her growing addiction to the rush of fame signal the beginning of the band's end. Apart from a passing mention, you'd never know that the Runaways continued for several years after Currie quit the band. Losing control, however, is not within the scope of Fanning's undeniable gifts. Even when she's collapsing in the lobby of a hotel in Tokyo or slumping to the bottom of a California phone booth, she's never as unstrung as she needs to be.
Stewart, on the other hand, makes a living by being a mess on-screen. Her emotions seem to pour out of her without passing through the filter of self-consciousness, an astonishing openness that can be mistaken for a lack of technique. As Jett, she's both available and impenetrable, a surefire recipe for rock stardom. She's closest to Currie, but she also shares a kindred spirit with the band's Machiavellian manager, Kim Fowley (Michael Shannon), a sleazy, foul-mouthed visionary who boils the band's songs down to a simple formula: "Fuck you, fuck authority, I want an orgasm!" Shannon's live-wire performance gives the movie a jolt it badly needs when he's not around. When he's on the screen, you never know what's going to happen next.
"The Runaways" will be released by Apparition on March 19th.