The Coens join the one-a-year club.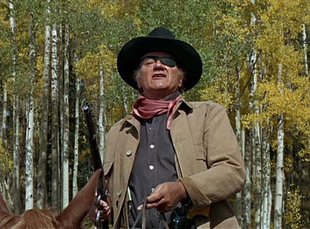 Posted by Vadim Rizov on
The announcement that the Coen brothers' "True Grit" will be with us by Christmas means the Coens have managed to release a new movie every year for four years in a row. This places them in a weird, elite club of filmmakers who really have nothing in common besides their uncommon productivity.
The list includes Woody Allen (who hasn't had a year off since 1981), Clint Eastwood (who compensated for missing 2005 and and 2007 by putting out two movies in '06 and '08), Werner Herzog (pretty much the same since 1995, TV and shorts included) and the infamously prolific Steven Soderbergh (14 movies since 1998, plus one short and 10 episodes of "K Street").
Their reasons are all different: Allen's compulsive by nature (in an interview buried in the poorly indexed archives of the Austin American-Statesman, I remember him comparing his one-a-year pace to someone in a lunatic asylum weaving hand-baskets to keep steady). Eastwood — something of an auteurist hero these days for American critics looking for a successor of Hollywood classicism and professionalism — is in the mold of the old-school directors he admires, who cranked the hits out within the studio system. Herzog's just got too many places in the world he'd like to visit, too many things to see. And Soderbergh has too many radically different formal approaches he'd like to try.
It's interesting and instructive that a lot of Hollywood hacks don't work this fast, even though what they're doing is (we presume) a lot easier, and certainly less risky. Because one thing all these filmmakers do have in common is that they don't really make hits, at least not consistently; the fact they generally make medium-budget films actually makes things harder on them. With whatever perseverance and skill they have, they've managed not to let that slow them down.
Making movies is no longer as fast as it used to be. One of the marvelous things about the old school Hollywood auteurs is how much of their work there is to explore, if one is so inclined. By contrast, Tarantino's one of the best we have, and we'll be lucky if he leaves us with, say, 10 movies before he conks out or quits, whichever comes first. Like Tarantino, we shouldn't expect a voluminous oeuvre from the Andersons (P.T. and Wes), either, because they work very, very slowly just in the writing phase.
That's a shame. There's something to be said for working steadily, even if a lot of what emerges is imperfect or half-assed, but I fear P.T. Anderson may never make the unadulterated masterpiece he clearly has in him at the rate of three films a decade. I've been mixed-ish on the last two Coen brothers films — and about half their films, really — but I'm glad they keep at it; the more they do, the clearer the picture gets.
[Photos: "True Grit," Paramount, 1969; "Punch-Drunk Love," Sony, 2002.]