When "Fight Club" and "Shawshank" push Hitch to take a hike.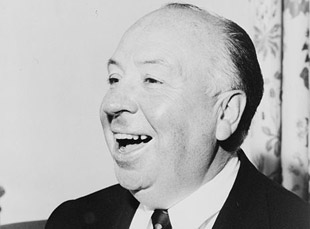 Posted by Vadim Rizov on
The other day Big Hollywood took some time out of ranting about how Obama destroyed class (again please?) to post something so idiotic even the site's commenters weren't having it. went too far even for the commenters who love to rant about cultural elites ramming David Lynch down our throats or something. In a post on the "Top 10 Most Overrated Directors of All Time," young Ben Shapiro (a kind of twentysomething Bernard Goldberg) started with Ridley Scott and ended up with Hitchcock at #1(!). In between were, among others, David Lean and Darren Aronofsky, back-to-back.
Dwelling on the list's stupidity at any length is self-evidently unnecessary (though Victor Morton does so interestingly elsewhere). But what was interesting was the assumption that the playing field had been leveled so fast; that you could, in fact, equate the reputations of Lean and Aronofsky (or, hell, Scott and Hitchcock) and find them equally overrated (or great).
Absurd on its face, perhaps, yet it's absolutely true to my short-lived time in film school. The first thing I learned when I got to NYU is that the overwhelming majority of the students didn't really care about anything older than, say, "Wayne's World." And that a lot of them were drawing the outer parameters of art cinema at "Lost in Translation" probably shouldn't have surprised me.
What did surprise me was that a lot of the professors didn't seem to be much better informed. I took a mandatory screenwriting class where we watched "Wall Street" because it's apparently a perfectly structured movie. (Maybe in some kind of Platonic structural sense, but it's still stupid.) Later on, we watched "The Usual Suspects," our professor pausing every so often to announce where the act breaks and plot beats were; in the room right next door, with the music bleeding and overlapping, was a class on film scores, also focusing on "The Usual Suspects." Which — I mean this nicely — is nowhere close to being one of the great films of all time, or our time, or the '90s, or even 1995.

Nonetheless, it's part of a certain group of movies produced in the last 20 years or so have somehow achieved parity with a small, select group of movies still in circulation as The Classics ("Citizen Kane," "The Godfather," "Rear Window," maybe "The Graduate," if you're feeling artsy). You know the ones: the collected Tarantinos, "Fight Club," "Memento," "Requiem For A Dream," "Snatch," "Garden State" (though there may have been a backlash since I left school), and of course that crowning masterpiece of our times, "The Shawshank Redemption."
I don't really mean to be a snot: I'm on team Tarantino in a big way, and as far as "Fight Club" goes, it's aged a lot better than I'd expected. But how these came to be the tightly-packed set of movies found in recurring clusters on people's Facebook profiles, I don't know.
Shapiro's post is laughable for all kinds of reasons, but it's symptomatic in a very real way: there is a whole generation of people my age and younger who really think these movies aren't just prospective canon candidates but are the canon. And it's not just a lack of historical perspective if a lot of the professors are agreeing with them — which they are — it becomes a self-fulfilling prophecy.
[Photos: Alfred Hitchcock public-domain via Wikipedia; "The Usual Suspects," MGM Home Entertainment, 1995.]