The Last Station, composer Sergey Yevtushenko.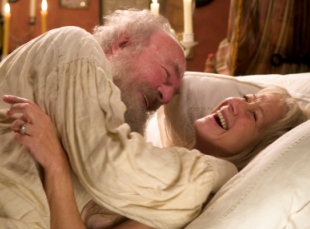 Posted by Brandon Kim on
The reviews are mixed but that doesn't dilute the joy of seeing Christopher Plummer and the super hot, Helen Mirren go for a roll in the hay in Michael Hoffman's "The Last Station. Plummer plays literary legend Leo Tolstoy. Mirren plays Countess Sofya Tolstoy, lover, muse, wife and nemesis, to the Russian novelist who renounces his noble title, and his property in favor of poverty, vegetarianism and celibacy. Enter Paul Giamatti as Chertkov and James McAvoy as Tolstoy worshipper, Valentin, to complicate matters in what is essentially a love story.
[Christopher Plummer and Helen Mirren getting down. Photo by Stephan Rabold, Courtesy of Sony Pictures Classics.]
Relative unknown, Sergey Yevtushenko ("Raja 1918") composes the score to this performance driven period piece. The score also includes a piece by Giacomo Puccini and an aria by some guy called Wolfgang Amadeus Mozart. St. Petersburg's Yevtushenko does 90% of the work though. He is rumored to be scoring a feature film set during WWII about Dmitri Shostakovich – the Russian composer who wrote his 7th Symphony during the siege of Leningrad by the Germans in 1941 (the most brutal in history with an estimated 2 million casualties). Ah Leningrad, after all the pets and old shoes were eaten, people began eating other people.
Here's a bit of Sergey Yevtushenko going to work on "The Last Station."