The Horner cue, Avatar 3D glasses.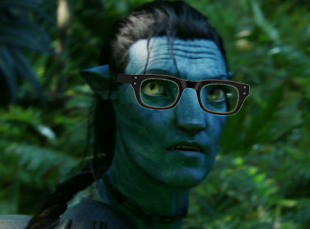 Posted by Brandon Kim on
A long love-hate relationship with composer James Horner continues. While his approach embraces (perhaps even defined) some of the worst aspects of Hollywood scoring, he's been responsible some of the most memorable scores of the 80's and 90's. His comments about scoring "Avatar" were the sort of offensive delusions of grandeur that you could expect from someone who has worked so closely with "the king of the world," but at the same time he made up for it by rightfully trashing Michael Bay.
The big criticism about Horner is that he constantly plagiarizes, though mostly from himself. The question is where does personal style end and lazy recycling begin? Surprisingly, I've discovered that some of his recycling is what I like about him. Horner's "Avatar" score does not rank up there with the likes of "Glory" or "Aliens," in fact I didn't much care for it at all, but those familiar cues he's been spamming for the past several decades, used sparingly now, are kind of nice. Maybe I'm just a sucker for Hollywood nostalgia and my childhood, but one of my favorite ominous cues has always been what I call the horner.
Expectedly, it's used liberally in the opening space scenes of "Avatar." I can't find an example of it to show in any of the official trailers or peeks (and anything unofficial won't last longer than 2 seconds), but check it out in 1988's "Willow" – maybe the first time I became aware of it.

The Horner @ :17 seconds. Cue on the word "evil" as the camera tilts up the black fortress. Again at :25.
And I wanted to assure you wearers of large spectacles who've waited for the hubbub to die down a bit, that those 3D glasses will work just fine. You might trip out a bit, but it is the only way you should view this movie. The information I got from the web was useless – it took calling an AMC Loews customer courtesy rep to find out if there is truly a LARGE and accommodating version of the glasses. I wear real Men's frames, and the last time I saw something in 3D (years ago) it was a disaster. The comically enormous glasses they are handing out at the Imax screens fit over my Moscot Nebb's just fine and I was assured they have the options at the non-Imax 3D screenings as well.