The British are coming! — Izzard to host the 2010 Spirit Awards.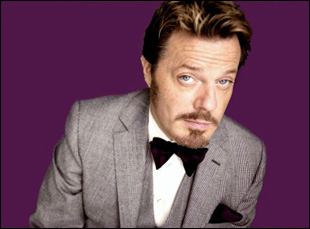 Posted by Stephen Saito on
Eddie Izzard has been tipped to host this year's Spirit Awards on Friday, March 5th, which of course will be broadcast live on IFC. (The nominations can be found here.) Last seen in Sally Potter's "Rage," Izzard will be following in the footsteps of Buck Henry, Robert Townsend, Samuel L. Jackson, Queen Latifah, John Waters, and Sarah Silverman, among others in taking the reins of the ceremony where all bets are off. But he also joins a quickly growing fraternity of awards show hosts from across the pond, including last year's Spirit Awards host Steve Coogan, recent Golden Globes host Ricky Gervais and MTV Music Awards host Russell Brand, with whom Izzard also shares a love of eyeliner.
If the uptick in viewership that accompanied Gervais' turn at the Globes is any indication, American audiences aren't exactly missing homegrown hosts, yet it is interesting that these one-night occupations that were once the province of talk show hosts have been trending towards Brits, non-comedians like Hugh Jackman and Neil Patrick Harris, or in the case of this year's Oscars, a dynamic duo (Steve Martin and Alec Baldwin). Yet as Izzard's bio on his Twitter feed reads, "I'm a British European, I think like an American and I was born in an Arabic country." And we should be happy to have him. Here are a few highlights from the other British-born hosts of late:
Widely believed to be last year's Spirit Awards' finest hour, Coogan put on a '60s era Batman costume to pose as Christian Bale berating Joaquin Phoenix (played by Coogan's "Around the World in 80 Days" director Frank Coraci):
Although upstaged by Kanyegate, Brand got the full-on rock star entrance into last year's Video Music Awards, courtesy of girlfriend Katy Perry and Aerosmith's Joe Perry:
As Paul McCartney and Mel Gibson soon learned, Gervais wasn't taking any prisoners with his opening monologue at this year's Golden Globes:
[Photo: Eddie Izzard in "Rage," Vox3 Films, 2009]