Anthony Hopkins is grumbling about mumbling.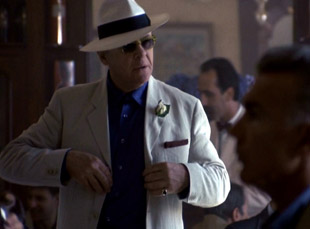 Posted by Vadim Rizov on
In a predictably contentious interview with The Guardian, Anthony Hopkins caps off an eminently readable series of straightforward admissions about his alcoholic past, estranged daughter and disdain for the British tabloids by denouncing what's going down in the UCLA acting classes he teaches. "There are a lot of young kids, good actors, but they are so macho they think it's sexy to whisper. I don't know what the hell they are talking about. They may as well put subtitles on them. I teach acting classes at UCLA, and I stand there and say: 'I can't understand one word you're saying, so how d'you expect me to sit in the audience?'"
Now, I don't know what Hopkins is talking about, if he's teaching theatrical or film acting, nor could I find evidence of said acting classes online. And I don't remember a swarm of recent Hollywood performances specializing in whispering. The tentative, awkward shuffle, sure — I used to want to slap some decisiveness into Tobey Maguire until he snapped out of it, Jake Gyllenhaal has run with it pretty well, and Paul Dano's brilliant turn in "There Will Be Blood" pretty much took it into the realm of self-parody. But I don't think that's what Hopkins is talking about, nor, I suspect, is he being inundated with a new breed of mumblecore actors.
Hopkins' complaint, nonetheless, seems curiously anachronistic. He began stage-acting in the early '60s and was on film by 1967, making him probably the most successful British screen actor of his generation. His compatriots included the largely now-forgotten Nicol Williamson and John Hurt, both of whom he acted against, but Hopkins eclipsed them both for sheer fame. (Michael Caine's of the same generation, but his insistence on keeping his own accent rather than the Queen's English makes him a whole other story.) Hurt has proven himself adept at sinking into characters; Williamson, primarily a stage actor praised by the likes of Samuel Beckett, never could tone it down for film.
Hopkins gets to have it both ways, as pretty much every profile notes. He's overwhelmingly associated with either his quiet Merchant Ivory turns ("The Remains of the Day," "Howard's End") or scenery-chewing on a massive scale (Hannibal Lecter, his enjoyable hammy tête-à-tête with Ryan Gosling in "Fracture," being Richard Nixon). But if you look at his overall body of work, it's clear Hopkins is kind of an anomaly, splitting the difference between the old-school theatrical training he had while learning to adapt to new screen conventions. Which makes his grumbling about mumbling even more puzzling. He had to learn to take it down a notch to continue a successful screen career; surely, he doesn't expect the new generation of kids to start from where he started 40 years ago? Besides, his turn in the underrated "The World's Fastest Indian" is as mumbly as it gets.
[Photos: "Hannibal," MGM/UA, 2001; "Nixon," Buena Vista Home Entertainment, 1995.]