"Sympathy for Delicious," The Stain makes mixed debut at Sundance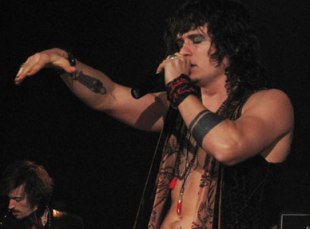 Posted by Brandon Kim on
Some of the reviews of Mark Ruffalo's directing debut, "Sympathy for Delicious" remind me of 09's "Law & Order: Criminal Intent" season premiere – which centered around a crime committed in the midst of a bohemian Brooklyn loft populated by young musicians. As you can imagine, the creators of that series were not up to the task of portraying such a world with any kind of realism and the whole thing was a terrible joke (I had to watch it to see Jeff Goldblum, and endless source of amusement, introduced into the series).
The whole thing relied on a muddled catalogue of bad hipster cliches and weak musician stereotypes. Worse, they were all totally outdated, as if the writers had only ever observed young people from behind tinted windows while moving at 25mph down Bedford avenue – cause that's where they were told hip artists hang out, when really, it's just an outdoor strip mall and tourist gallery.
I fear something similar is at work in "Sympathy for Delicious" even though the team has some serious cred. I have every faith that Orlando Bloom can play a convincing, self absorbed rocker who goes by the stage name, The Stain. Screenwriter Christopher Thornton also plays the role of the paralyzed, DJ Delicious, who discovers he has the power of healing – Thornton is actually paralyzed in real life, a fact many reviewers seem to be missing. But how well can he imagine a convincing group of rockers?
"The band and its milieu are drawn in such broad strokes, as an amalgam of rock-star cliches, that "Sympathy" has a hard time portraying the moral crisis Delicious faces in a realistic way. The caricatures are particularly jarring given the strong realist notes hit by other production elements, like Chris Norr's artful cinematography," writes John Defore in The Hollywood Reporter.
"The rockers consequently all slather on eyeliner, wear tight leather pants and swig hard liquor straight from the bottle and talk in a borderline nonsensical hipster patois," Nathan Rabin at the A.V. Club seethes. "In a magnificently awful, scenery-chewing performance Orlando Bloom does a terrible impersonation of both John Lennon and Jim Morrison while Juliette Lewis devolves into sad self-parody as the group's pill-addled bassist."
From what I've seen I doubt it's quite that bad, but I can't argue with some of the facts. However Filmmaker magzine's Brandon Harris had a much more positive take, "Ruffalo provides us with a truly unlikable protagonist who only earns our sympathy after some hard won lessons in selflessness and grace. While juggling the metaphysical and realistic, Ruffalo manages to steer his high and easily derailed concept to a satisfying ending."
Montreal psyche band,The Besnard Lakes, lend their musical talents to the score. Frankly, that and from what I've seen of Bloom parading about as The Stain have me sold. I trust in Ruffalo and admittedly, rock and roll cliches are somewhat entertaining. I like my rockstars boozing and pill popping and all fucked up. It's only a question of how authentic it feels.