Sundance Spin for 1/27: "Twelve" is a Zero.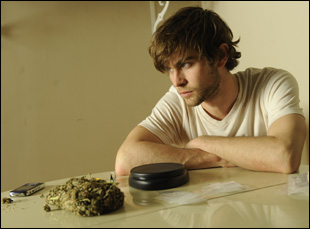 Posted by Stephen Saito on
While our Sundance home page is the place for all our coverage from Park City, here is a brief rundown of what's been going on during the last 24 hours, including Matt Singer's interview with "The Freebie" writer/director Katie Aselton and co-star Dax Shepard and reviews of the Chace Crawford drama "Twelve," the Banksy doc "Exit Through the Gift Shop," Philip Seymour Hoffman's directorial debut "Jack Goes Boating" and the 3D Aussie doc "Cane Toads 2: The Conquest."
Some were puzzled when Sundance accepted "Batman and Robin" director Joel Schumacher's latest film "Twelve." James Rocchi writes that the concern was justified. Here's an excerpt from his review, which can be found in full here:
Directed by Joel Schumacher ("Batman and Robin," "The Lost Boys"), "Twelve" is unquestionably the funniest film at the 2010 Sundance Film Festival; if only it had been made with that intention. "Twelve"'s ham-handed ineptitude is part of the joke — on Schumacher, on audiences and on any distributor brave or foolish enough to pick it up in an attempt to turn this sow's ear into a camp classic. Based on the novel by Nick McDonell, "Twelve" follows a group of poor little rich kids on Manhattan's Upper East Side as they deal and/or do drugs in an effort to fill the emotional voids in their privileged lives. It is not merely that, in the age of "Gossip Girl" (which shares actor Chace Crawford with "Twelve"), the wicked behavior of pretty boys and girls is fairly played out; this stuff was milked dry decades ago by better writers like Bret Easton Ellis ("The Rules of Attraction") and Jay McInerney ("Bright Lights, Big City") and in better films. Lowering the age of the protagonists and upping the depravity of the conduct is not ripping the veil off of a hidden world; it's skeevy pandering, a 'How low can you go?' exercise in attention-getting.
Not surprisingly, the "world's first street art disaster movie" "Exit Through the Gift Shop," which sees the underground artist Banksy turning the tables on documentarian Thierry Guetta, snuck up on Alison Willmore. While Willmore discussed the film with Matt Singer on this week's IFC News podcast, here's an excerpt from her review, which can be found in full here:
As a wise colleague pointed out, the truth isn't actually that important to this delightful film, which chronicles how Guetta, an effusive guy with gigantic mutton chop sideburns who obsessively self-documented his life with a video camera, became the official chronicler of the rise of street art. It starts with him following around his cousin, the anonymous Space Invader, who puts up illicit mosaic tiles inspired by vintage video games in cities around the world. Through him, he meets Monsieur André, and then the likes of Swoon, and Sweet Toof, and Borf, and Ron English, and many others, including Shepherd Fairey and, finally, Banksy.
Guetta chronicles all of these artists at work — Banksy hooded, or from behind, or in shadow, voice altered in the film's interviews — following them at night as they spraypaint tags or stencil buildings or put up stickers or wheatpastes, and getting some amazing, exclusive footage that he… never intended to use. Guetta claimed he was making a doc on street art, but he just tossed the tapes, sometimes unmarked, into boxes. It was being there, capturing it all, and having a place in the scene, that he loved.
Willmore also caught "Jack Goes Boating," the meandering directorial debut of Philip Seymour Hoffman, in which he stars with Amy Ryan. Here's an excerpt from her review, which can be found in full here:
"Jack Goes Boating" is packed with all of the issues of the typical play-to-film transfer. Characters drift into monologues, long single location scenes have to be awkwardly broken up, we drop into the middle of conversations in a self-conscious way that would look a lot better if preceded by the lights coming up at the start of Act 2. Things that work well on the stage tend, on film, to look awfully, you know, stagey.
The performances are great — of course they are, it's Philip Seymour Hoffman and Amy Ryan as Jack and Connie, two working class New Yorkers who become engaged in a "Marty"ish romance. They're set up by their respective coworkers Clyde (John Ortiz) and Lucy (Daphne Rubin-Vega), whose marriage starts showing signs of strain as their friends tentatively move toward a relationship. Jack is an awkward reggae-loving limo driver who lives in his uncle's basement, Connie works at a mortuary and seems to have a few family and sexual issues to work through, and there's no further explanation for their social handicaps — which is nice. Their scenes together have a offbeat sweetness that's unfortunately not echoed in the rest of the film.
Many things leapt out at Sam Adams during "Cane Toads 2: The Conquest," Mark Lewis' 3D follow-up to the cult hit doc about the proliferation of pesky toads in Australia. Here's an excerpt from his review, which can be found in full here:
Lewis is well aware of the disparity between the brute naturalism of his subject and the cutting-edge technology of his methods. At times, the film almost plays as a joke on the faddish application of 3D technology to subjects where it adds little more than a marketing hook. The talking-head interviews with a variety of scientists, farmers and civic officials are staged with exaggerated depth of field: one subject is photographed in front of a looming wall of library books, another in the shadow of an enormous tractor. The movie makes extensive use of digital compositing, and other shots simply look as if they've been extensively worked over in post, their colors popping unnaturally.
"Conquest"'s stylized reenactments, in one case recounting a pet dog's brush with death after chomping down on a toxic toad, are filmed with a visual panache that would make Errol Morris sit up and take notice. But the movie's overreliance on effects sabotages the feeling of connection to the natural world. It's hard to forge a connection to Lewis' "little toad friends" when even the shots that purport to depict them in their natural environment seem as if they might be staged. Every time a toad hops across the screen, you wonder if there's a pair of hands just out of frame, releasing the warty creature on cue.
Recently Added to our Sundance Cheat Sheet:
In the Premieres Section:
The Reviews Are In for Diego Luna's directorial debut "Abel": Hollywood Reporter's James Greenberg writes, "It's a bittersweet, if slight, story, buoyed by a winning and heartfelt performance by non-pro Christopher Ruiz-Esparza in the title role."
The Reviews Are In for "It's A Wonderful Afterlife," the latest comedy from "Bend It Like Beckham" director Gurinder Chadha: Wall Street Journal's Michelle Kung got generally good vibes off the film's premiere. Hollywood Reporter's John DeFore writes, "Director Gurinder Chadha and her team, with their TV-sitcom color palette and quick comic pacing, clearly aren't shooting for plausibility, and audiences in search of a few easy laughs won't be disappointed — though they might secretly wish for more interesting characters and richer local color."
The Reviews Are In for "The Romantics," the college reunion dramedy with Katie Holmes leading a starry ensemble: HitFix's Gregory Ellwood writes, "Disturbingly, the film comes across as a mix of "Rachel Getting Married" for the Hamptons crowd which isn't exactly a compliment." Hollywood Reporter's Kirk Honeycutt is slightly more positive, writing, "Landing somewhere between a generational comedy and soap opera, the film is forgettable fun." The L.A. Times' Steven Zeitchek believes Holmes' performance saves the film. USA Today's Anthony Breznican imagines it on a double bill with "(500) Days of Summer."
The Reviews Are In for "Twelve": Besides IFC.com HitFix's Gregory Ellwood calls the film "the most unintentionally campy piece of moviemaking to hit Park City in years." /Film's Peter Sciretta and Collider's Steve Weintraub put their obituary on video.
In the Spotlight Section:
The Reviews Are In for the Louis C.K. standup concert film "Louis C.K.: Hilarious": Not surprisingly given the title, Film School Rejects' Neil Miller thought it was very funny, and so did Ain't It Cool's Quint. Bonus:/Film.com captures the Q & A at the premiere, including a joke that didn't make the film's final cut.
The Reviews Are In for Lucy Walker's nuclear proliferation doc "Countdown to Zero": Variety's John Anderson writes, "There are moments when "Countdown to Zero" seems to have bitten off more than it can chew — existing state nuclear arsenals seem to be a separate, if overlapping, consideration from terrorism. On the other hand, the looseness of security regarding Russia's old nukes is a problem all around, so it's hard to see where a film about one might end and a study of the other might begin."
In the NEXT Section:
The Reviews Are In for "Bilal's Stand," a drama about a high school seniors choice between college and a life running the family business: Filmmaker's Brandon Harris writes, "It's full of performances that are rough around the edges but as authentic and appealing as any I've seen at the festival thus far."
The Reviews Are In for Adam Bowers' comedy "New Low": Variety's John Anderson writes, "Shot raggedly, and on borrowed equipment, the pic has something most contemporary comedies don't — which is a core idea that isn't funny at all."
In the U.S. Dramatic Competition Section:
The Reviews Are In for Ryan Piers Williams' coming home drama "The Dry Land": Hollywood Reporter's James Greenberg writes, "'The Dry Land' is not the first movie about returning vets, but there are never too many as long as the story is compelling. Williams largely succeeds." Daemon's Movies wasn't impressed with the film's performances. Variety's Robert Koehler, too, admired the effort, but ultimately didn't buy it.
The Reviews Are In for "The Imperialists Are Still Alive!": Hollywood Reporter's Kirk Honeycutt writes, "This bold portrait of a Westernized and sexually liberated Arab woman is fresh and funny, but defiantly uncommercial." The Salt Lake Tribune's Sean Means gave it 1 1/2 stars and writes, "Zenia Durra's melting-pot New York story is an undigestible stew of pretty people, pretentious art and vacuous scene-setting."
The Reviews Are In for Bryan Poyser's unlikely romcom "Lovers of Hate": Movie City News' Larry Gross calls the film "is the kind of tiny brilliant gem that low-budget indie films ought to be and so seldom are." Hollywood Reporter's James Greenberg only saw some of that, writing, "Writer-director Bryan Poyser has admirably attempted a difficult feat: walking the line between a situation that is funny and dangerously disturbed. At times the film hits the mark, and at others it's too creepy to be funny."
The Reviews Are In for "Sympathy for Delicious": At Movie City News, Larry Gross gives the the first word on the film and it's good. The Hollywood Reporter's John DeFore and The A.V. Club's Nathan Rabin, who writes "Astonishingly, the fact that Orlando Bloom plays a character named The Stain is only the fifth or sixth most moronic and misbegotten aspect of the film…I should also point out that this is not a comedy but rather an unrelentingly dour, portentous drama that expects us to take this foolishness seriously." /Film's Dave Chen chats with CHUD's Devin Faraci and First Showing's Brandon Tenney about the film.
The Reviews Are In for "Judy Berlin" director Eric Mendelsohn's "3 Backyards": Variety's John Anderson calls the film "an exquisite example of calculated execution in pursuit of elusive ideas." Filmmaker's Brandon Harris couldn't disagree more, writing, "Suburban ennui has never been quite this boring, pointless and patently absurd, but at least it has nice lens flares." Dark Horizons' Paul Fischer sides with Harris.
In the U.S. Documentary Competition Section:
The Reviews Are In for Josh Fox's GASLAND, about the terrors of natural gas drilling: Variety's Robert Koehler writes, "Who could have anticipated that one of the most effective and expressive environmental films of recent years would be the work of a Gotham theater director who's never before made a doc?"
The Reviews Are In for "Joan Rivers: A Piece of Work": AJ Schnack offers a roundup of reviews. The L.A. Times' Mark Olsen writes, "As a way of putting her career in perspective and creating a newfound appreciation for the anxiety that lies behind her abrasive persona, "Joan Rivers" really is quite a piece of work." L.A. Weekly's Karina Longworth writes "Amazingly, Joan Rivers: A Piece of Work might be best understood as one of a piece with Stern and Sundberg's activist work. If the entertainment industry ain't exactly Darfur, it still hasn't been an easy road for Rivers, whose boundary-breaking comic creativity will likely be listed low in her obituary." Entertainment Weekly's Owen Gleiberman also chimes in.
The Reviews Are In for "Spellbound" helmer Jeffrey Blitz's lottery doc "Lucky": On IFC.com, Bilge Ebiri writes, "'Lucky' effectively uses these life-changing events to explore its diverse characters. The lottery winds up being incidental to the tale: Blitz might as well be following a series of plane crash survivors. In the end, much like "Spellbound," this is a film about the vast tapestry of human experience." HitFix's Daniel Fienberg thinks lottery tales have been overdone. /Film's Peter Sciretta shares his thoughts with Dave Chen and Collider's Steve Weintraub in a video review. The A.V. Club's Noel Murray and Nathan Rabin thought it was a little too light. Variety's Justin Chang agrees.
The Reviews Are In for Robin Hessman's children of the Cold War doc "My Perestroika": The A.V. Club's Noel Murray gives it a B+ and writes, "Hessman has an interesting story on her hands, with an unexpected theme that she outlines in the movie's press notes: 'In Russia, it's the past that's unpredictable.'"
In the World Cinema Documentary Competition Section:
The Reviews Are In for "Kick In Iran," a film about an female Iranian kickboxer striving to compete in the Olympics: John Anderson leads off his review in Variety with, "Beautiful women beating the hell out of each other is a pretty marketable hook, and when you add the political subtext of 'Kick in Iran,' what you have is a package." Screen Daily's David D'Arcy concurs, "In 'Kick In Iran"s best moments, Koshjamal-Fekri fights like angry bird, punctuating sudden kicks with piercingly shrill cries. It's nothing short of cold determination, yet her hard tough face can break into an enchantingly warm smile, ensuring that you won't take your eyes away."
The Reviews Are In for "Blindsight" director Lucy Walker's doc "Waste Land" about recycled art: Screen Daily's Tim Grierson writes, "With such great material on hand, Walker has opted for a simplistically inspirational story, however, and 'Waste Land' merely skims the surface rather than digging deeper."
In the New Frontier Section:
The Reviews Are In for the Animal Collective "visual album" "ODDSAC": Cinema Blend's Katey Rich writes, "What I do know is that ODDSAC definitely doesn't look like anything I've seen at Sundance, or maybe even in my life, and at its best moments captures some of the aural layers and intensity of the band's music itself. If you're going for "visual album," I'd say that's pretty good." Movieline's Seth Abramovitch writes, "As for psychedelia, if you didn't suffer from epilepsy going into the film, ODDSAC should cure you of that, though Perez's frenetic visual manipulations have an undeniable aesthetic pull."
Acquisitions: The Lisa Cholodenko domestic comedy "The Kids Are All Right" was picked up by Focus Features in a deal reported to be for $5 million.