Sundance Spin for 1/26: "Mother" Doesn't Know Best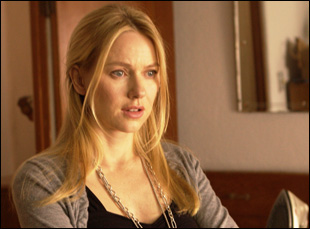 Posted by Stephen Saito on
While our Sundance home page is the place for all our coverage from Park City, here is a brief rundown of what's been going on during the last 24 hours, including a new photo gallery for the Catherine Keener-Amanda Peet dramedy "Please Give" and reviews of "Lucky," "The Freebie" and "Mother and Child."
Matt Singer got an unwelcome Paul Haggis vibe from Rodrigo Garcia's "Mother and Child," a multi-stranded drama starring Annette Bening, Naomi Watts and Kerry Washington as a trio of women connected through pregnancy and adoption that Sony Classics will release in May. Here's an excerpt from his review, which can be found in full here:
The winner in the bunch is Naomi Watts who, in a terrific performance, plays Elizabeth, a ferociously competitive careerist starting a new job at a law firm run by Paul (Samuel L. Jackson). For Watts, Elizabeth offers an opportunity to showcase an intensity she hasn't tapped into onscreen in a while. It's nice to see it back. When she tells Paul in her job interview that many women find her threatening, we can see why; she is an intimidating, formidable presence. Elizabeth reveals in the same interview that she was given up for adoption by her mother when she was a newborn. She never met the woman and doesn't care to; she isn't close with her adopted parents and she doesn't intend to marry. "I'm not in the sisterhood," she says. "I'm my own person."…
But a problem with a performance this good in a film like this is we have to share it with others that, even if they aren't necessarily bad, just aren't as interesting. Annette Bening plays Karen, the woman who gave Elizabeth up when she was just 14 years old, and has lived with the guilt and pain of that decision for her entire life. Kerry Washington plays Lucy, a woman who can't have a child of her own trying to find a baby to adopt. And yes, while it is sort of interesting to compare the three women – Karen and Elizabeth's similar reactions to men even though they've never met; the black and white design that dominates the cold Elizabeth's life contrasts sharply with the colorful, flowery clothes and home furnishings of the warmer Lucy – those scenes are never more interesting than simply following Elizabeth. At a certain point, Garcia goes so overboard with wild plot twists in all the plot threads (people dying, people radically changing deeply held beliefs) that even Watts' storyline suffers.
Alison Willmore was underwhelmed by "The Freebie," Katie Aselton's directorial debut about a married Angeleno couple who allow each other one night of freedom outside their marriage that is in the NEXT section. Here's an excerpt from her review, which can be found in full here:
The sunny, laid-back L.A. lives being lived by the film's indisputably adult characters seem to have kept them in a kind of stasis, where they're only now dealing with things you'd think should have surfaced years ago. When Annie and Darren talk about how they can totally do this because they're honest and love and trust each other so much, it sounds genuine and familiar, but also like the kind of naively nonconformist thing a pair of college students would say before ending up seriously hurting each other's feelings. This goes beyond Annie and Darren's experiment — at a dinner party, one of their friends notices another's wife isn't drinking and that she never turns down a glass of wine. "Should we tell them?" her husband asks. What could it be, everyone else at the table demands, apparently genuinely mystified. Yes, what reason would a grown woman in a long-term relationship have for taking, say, a nine-month break from alcohol? And this party is for someone's 36th birthday.
I'm just a little weary of the conservative core that lurks beneath the scruffy surface of a lot of recent R-rated comedies and indie dramedies — behind the requisite unrelenting candor, dick jokes and druggy grandparents, plenty of them come down to espousing the same old values of family, community, fidelity. There's nothing new on that front in "The Freebie," in which the couple in question do not, of course, find the answer to their problems is a one-night dip into open marriage. I was rooting for that. Hell, I was rooting for them to decide that no longer wanting to sleep with each other was just fine, that they didn't need it. Now that, strange as it may be, would be edgy.
On the other hand, Bilge Ebiri was charmed by "Lucky," "Spellbound" director Jeffrey Blitz's look into the lives of lottery winners that's screening in the U.S. Documentary Competition. Here's an excerpt from her review, which can be found in full here:
Luckily, Blitz isn't too interested in preaching to us. He employs the same cross-sectional approach he employed in "Spellbound," following people from all walks of life whose lives were changed by the lottery, but this time there's little common purpose. They've all won already. What fascinates the filmmaker are the divergent paths they took after their victories. One Vietnamese immigrant from Lincoln, Neb., one of eight winners of a record-breaking, $300 million-plus jackpot, uses his newfound money to build a series of large homes right next to one another and bring his family closer to home; he then builds a massive mansion in Vietnam, so 50 or so members of his family back there can live together. A New Jersey couple, the sole winners of a staggering $110 million, give money to neighbors in need and a series of charities, before moving off to Sarasota, Fla. and buying one of the chintziest houses I've ever seen, including a pool with the letters "PB" (for Powerball) painted on the bottom. One winner — a troubled, suicidal loner who split his last $3 on food for his nine cats and a Powerball ticket — gets cleaned up, buys a nice suit and a big house — then realizes he wants to go back to living a simple life and checks into a motel.
There is a bit of disconnect here: "Lucky" is fascinating, but one might wonder what it's actually about. There's no real overarching philosophy to the director's approach. He seems content to sit back and revel in the cosmic joke that seems to be at play whenever someone hits a jackpot.
Recently Added to our Sundance Cheat Sheet:
In the Premieres Section:
The Reviews Are In for the Paul Dano-Kevin Kline comedy "The Extra Man," the latest feature from "American Splendor" directors Shari Springer Berman and Robert Pulcini, based on "Bored to Death" scribe Jonathan Ames: Cinema Blend's Katey Rich writes, "'The Extra Man' will probably get picked up before too long, and can sell itself based on Kline's hammy performance, Dano's sensitive one, and the promise of seeing a lot of weird stuff in a short running time. But 'The Extra Man' is primarily a giant disappointment, proof that quirk without direction or purpose can feel just as boring as a story about more ordinary people." The New York Times' Melena Ryzik writes that it has Kline's "funniest role in years." ScreenCrave's Brendan Walsh writes, "It would be very easy to peg this film as 'Little Miss Sunshine' meets 'Midnight Cowboy,' however it is much more than that." The Hollywood Reporter's Kirk Honeycutt was hoping for something more substantial, saying, "This odd collection of oddballs doesn't quite play out as a satisfying movie."
The Reviews Are In for Philip Seymour Hoffman's "Jack Goes Boating": HitFix's Daniel Fienberg says the film "marks an unexciting, but sturdy directing debut for Philip Seymour Hoffman." New York Post's Kyle Smith also weighs in with a positive notice. Wisconsin State Journal's Rob Thomas was moved, The Hollywood Reporter's Kirk Honeycutt felt Hoffman wasn't making much of a stretch.
The Reviews Are In for "High Art" director Lisa Cholodenko's comedy "The Kids Are All Right," which stars Annette Bening and Julianne Moore as a lesbian couple whose children's biological father reappears in their lives: The L.A. Times and IndieWire both report on the film's strong first screener, which attracted plenty of buyers and left IndieWire's Peter Knegt writing, "The performances are across the board fantastic, and it would not be a surprise if a year from now Bening, Moore and Ruffalo all find themselves in contention for Oscar nominations…wherever 'Kids' ends up, audiences should prepare for something truly special: one of the most endearing cinematic portraits of a contemporary American family, and one that just so happens to be reared by a same-sex couple." New York Magazine's Logan Hill was similarly wowed, Screen Daily's Tim Grierson calls it a "consistently amusing delight." Variety's Rob Nelson prefers Cholodenko's previous film to her latest, but enjoyed it nonetheless. HitFix's Gregory Ellwood writes, "What's also remarkable about "Kids" is that the characters are so well drawn out and there are so few false notes that when its funny, "Kids" is, frankly, hilarious."
In the Sundance Spotlight Section:
The Reviews Are In for Reed Cowan's doc "Prop. 8: The Mormon Proposition": IndieWire's Peter Knegt writes, "Though the film itself is flawed (from downright bizarre choices in sound and stock footage to laughable recreated sequences), it most certainly packed an emotional punch for the Park City audience."
The Reviews Are In for the Second Life doc "Life 2.0": /Film's Peter Sciretta offers his take in a video review with Film.com's Laremy Lengel and FirstShowing.net's Brandon Tenney. Hammer to Nail's Michael Tully writes, "Spingarn-Koff isn't overtly obnoxious in his condemnation of the SL lifestyle, but he certainly went out of his way to find participants whose hobbies have become more than just time-sucking obsessions…Grody to the max."
The Reviews Are In for "Winning Time: Reggie Miller Vs. the New York Knicks": The Oregonian's Shawn Levy writes, "Interviews with Miller, his courtside nemesis Spike Lee, his oncourt rivals (Patrick Ewing, John Starks) and teammates (Mark Jackson, Byron Scott) are woven together in a hugely entertaining tapestry about rivalry, trash talk, epic irony, failure and redemption."
In the U.S. Dramatic Competition Section:
The Reviews Are In for Drake Doremus' low-budget romcom "Douchebag": Generally positive word comes from Entertainment Weekly's Owen Gleiberman and The Hollywood Reporter's John DeFore, who weren't immune to the picture's low-budget charms.
The Reviews Are In for "Holy Rollers," the film starring Jesse Eisenberg and Justin Bartha as Hasidic ecstasy dealers: New York Post's Kyle Smith surmises "'Holy Rollers' also doesn't make much of an effort to explain who the Hasidim are and what they stand for; audiences unacquainted with the ultra-Orthodox sect are likely to feel alienated, if not bored. This film virtually defines the label 'niche product' and it's hard to imagine it'll play anywhere but New York." On the flip side, The Wrap's Eric Kohn notes Harvey Weinstein stayed for the film's Q & A and thinks the film's ending could benefit from the "Harvey Scissorhands" treatment.
The Reviews Are In for "Skateland," the '80s-set coming of age drama featuring "Twilight"'s Ashley Greene: The L.A. Times reports from the film's premiere with generally positive response.
In the U.S. Documentary Competition Section:
The Reviews Are In for "Bhutto": HitFix's Daniel Fienberg writes, "If you're pre-inclined to accept [Benazir] Bhutto has a hero with few flaws, you'll find your expectations confirmed and probably love "Bhutto." If you hope for a full portrait — not a hatchet job, just an acknowledgement of the person's imperfect humanity — that's not the movie Hernandez and O'Hara wanted to make."
The Reviews Are In for "Joan Rivers: A Piece of Work," a doc from "The Devil Came on Horseback" directors Ricki Stern and Annie Sundberg: The L.A. Times' Mark Olsen writes, "As a way of putting her career in perspective and creating a newfound appreciation for the anxiety that lies behind her abrasive persona, "Joan Rivers" really is quite a piece of work."
The Reviews Are In for "Lucky": Besides , HitFix's Daniel Fienberg thinks lottery tales have been overdone.
The Reviews Are In for "12th and Delaware," the latest from "Jesus Camp" directors Heidi Ewing and Rachel Grady about the abortion debate: Cinema Blend's Katey Rich writes "Anyone particularly invested in the debate can see 12th and Delaware as a concise explanation of what the enemy has in store. The rest of us can enjoy a small-scale human drama that says so much in microcosm about our country as a whole." Cinematical's Scott Weinberg writes, "Am I actually asserting that one little 80-minute documentary is able to capture both sides of this monumentally difficult subject? And with taste, class, and artistic craftsmanship, no less? Absolutely. What co-directors Heidi Ewing and Rachel Grady (Jesus Camp, also great) have built here may just be the finest documentary film ever made about the abortion issue."
In the Park City at Midnight Section:
The Reviews Are In for the Adrien Brody-starring pot comedy "HIGH School": Aint It Cool's Quint writes, "The movie is just plain old fun, thanks mostly to the very smart casting choices from director John Stalberg. Nobody plays their usual role here…Adrien Brody steals this film from some really funny motherfuckers."