Sundance Spin for 1/25: Does "The Runaways" Rock or Is It Rocky?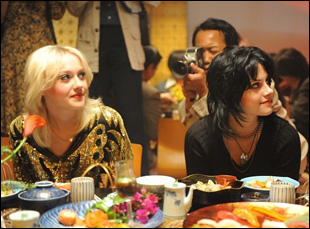 Posted by Stephen Saito on
While our Sundance home page is the place for all our coverage from Park City, here is a brief rundown of what's been going on during the last 24 hours, including the IFC News podcast with Alison Willmore and Matt Singer weighing the positives and negatives of this year's festival including the much-hyped screening of the Banksy doc "Exit Through the Gift Shop," "Restrepo" and "Hesher," plus a new photo gallery for the Ben Affleck-Tommy Lee Jones drama "The Company Men" and reviews of "The Runaways" and "Smash His Camera."
"The Runaways" wasn't music to Sam Adams' ears. Here's an excerpt from his review, which can be found in full here:
Coming-of-age movies are Sundance's stock in trade, but few announce themselves as boldly, and broadly, as "The Runaways," whose first shot is a splotch of menstrual blood hitting the pavement. Said splotch emanates from Cherie Currie (Dakota Fanning), a suburban California teenager with a burgeoning David Bowie obsession and a surly sensuality just beginning to bloom.
Teenage sexuality has always been the wellspring of rock and roll, but the Runaways made themselves the aggressors, concocting an unstable mixture of empowerment and exploitation. Floria Sigismondi, who directed music videos for Marilyn Manson, Christina Aguilera and the White Stripes, has the story's girl-power framework well in hand. But in spite of that opening drop, the movie's evocation of the Runaways' rise and fall is short on the juices that make for great, trashy, disreputable rock. She crams Fanning into Currie's famous corset, and stages a passionate kiss between Currie and Jett before compressing their romantic relationship into a single softcore montage, but the movie is too tasteful and glossy to thoroughly embody the Runaways' quasi-pedophiliac appeal.
As much as for its characters, "The Runaways" is a rite of passage for its stars: Fanning, attempting to move beyond her preternaturally placid juvenile roles, and Kristen Stewart, whose volcanic Joan Jett runs hotter than the brooding teens she's played in, well, everything.
Bilge Ebiri went to see "Smash His Camera," a look at the life of pioneering paparazzo Ron Galella. Here's an excerpt from his review, which can be found in full here:
For all its fascination with glamour and the larger-than-life persona of Galella, Gast's jaunty, charming documentary is deceptively complex, tackling big issues with effortless clarity. The subject is certainly fun to watch, but to what extent is what he does an invasion of privacy – and what does that word even mean? (Constitutional lawyer Floyd Abrams points out that there is no general right to privacy in American law.) In watching the photographer do his thing, and in letting him regale us with his tales of run-ins with celebs, Gast makes it clear that Galella was an integral part of a celebrity feedback loop that made the rich and famous even more famous and probably richer, too. Maybe that's why Jackie O was the one who actually went so far as to sue the photographer; as recounted here — when questioned during the trial if she was a public person, her response was a matter-of-fact "No." She was one celebrity who tragically didn't ask for her notoriety.
It also helps that the photos are, in a word, magnificent. In a scene late in the film, Gast's camera follows a teenage girl as she peruses a gallery filled with Galella's photos. The girl doesn't know any of these people: Steve McQueen, Elizabeth Taylor and Richard Burton, Henry Kissinger, they're all strangers to her. But she does seem taken with the photos themselves. Gast seems to suggest something here about the impermanence of celebrity and the lasting nature of art: These glorious pictures may wind up being all that remains of these mythical, untouchable deities, long after their names have scattered into the wind.
Recently added to our Sundance Cheat Sheet:
In the Premieres Section:
The Reviews Are In for Michael Winterbottom's adaptation of the Jim Thompson noir "The Killer Inside Me": Apparently, Jessica Alba didn't like what she saw [UPDATED: We've been informed by the film's publicist that she had seen the film prior to Sundance and needed to catch a flight.], walking out of the screening halfway through (Ft. Worth Star-Telegram's Christopher Kelly did too, for other reasons), but consider this Movieline report from the film's infamous first screening to be the first review. Logan Hill writes for New York, "'The Killer Inside Me' is unrelentingly intense, guided by a menacingly bizarre performance from Casey Affleck, and may go down in history as the worst date film ever made." ScreenDaily's David D'Arcy adds, "Audiences up to their ears in cinematic serial killers may enter this film, thinking blithely that they already know them all. Like it or not, Winterbottom will prove them wrong." Cinema Blend's Katey Rich calls the film "cliched punishment."
The Reviews Are In for "The Runaways": Besides IFC.com,, mixed response has followed the film from the ecstatic Steve Weintraub of Collider, Paul Fischer from Dark Horizons, Hollywood Elsewhere's Jeffrey Wells, and Kevin Kelly of Cinematical, who says they "really should have been called The Joan Jett & Cherie Currie Show, because the other Runaways are hardly featured in this movie at all" to the more circumspect HitFix's Melinda Newman, New York Post's Kyle Smith and Owen Gleiberman of Entertainment Weekly, who writes "As a band, the movie gives them their due, but as individuals it doesn't make them interesting." MTV's Josh Horowitz calls it "electrifying, if formulaic." Count Ella Taylor and Karina Longworth among the nays, though Longworth writes, "'Runaways' is refreshingly honest and explicit about teen girl self-destruction and their complicated sexual power, but it's frustratingly slight when given an opportunity to show girls taking control of something other than their bodies."
In the Sundance Spotlight Section:
The Reviews Are In for "Exit Through the Gift Shop," the film about the elusive graffiti artist Banksy: On the IFC News podcast, Alison Willmore and Matt Singer discuss their thoughts on the quasi-doc, while The New York Times' Melena Ryzik writes, "it's a sort of meta-mockumentary, poking fun at the conventions of talking head-interviews and gallery snobbiness even while it employs them."
The Reviews Are In for the Second Life doc "Life 2.0": /Film's Peter Sciretta offers his take in a video review with Film.com's Laremy Lengel and FirstShowing.net's Brandon Tenney.
The Reviews Are In for "Teenage Paparazzo": /Film's Dave Chen and Collider's Steve Weintraub didn't expect to like the film, but they did. L.A. Weekly's Karina Longworth writes "As Austin's notoriety as a pint-sized pap increases, his ego swells to match, and Grenier realizes that he's been all too complicit in creating a monster…Though Grenier gets a huge assist from editor Jim Curtis Mol, 'Paparazzo' is still kind of a mess; it's also far more intellectually engaging than a film about celebrity made by a celebrity has any right to be."
The Reviews Are In for "To Catch A Dollar: Muhammad Yunus Banks on America": Daemon's Movies was quite impressed.
In the Sundance NEXT Section:
The Reviews Are In for Katie Aselton's romantic comedy "The Freebie": HitFix's Daniel Fienberg writes "There's no aspect of this gem that isn't a triumph for Aselton."
The Reviews Are In for "Homewrecker": Roger Ebert writes, "In an inspired performance, [Ana] Reeder gives us a cute, comely, terminally ditzy basket of insecurity, who involves the Mike in a series of adventures that are both unlikely and sort of inevitable."
In the U.S. Dramatic Competition Section:
The Reviews Are In for the Ryan Gosling-Michelle Williams drama "Blue Valentine": IndieWire's Eric Kohn writes, "Light on plot and heavy on expression, Derek Cianfrance's "Blue Valentine" is a study in extremes…You could hang this movie on your wall, but it would really bring down the mood." New York Post's Kyle Smith finds it lovely, Ella Taylor didn't think there was enough there. The L.A. Times' Steven Zeitchek considers it a hit, HitFix's Gregory Ellwood was similarly taken.
The Reviews Are In for Mark Ruffalo's directorial debut "Sympathy for Delicious" : At Movie City News, Larry Gross gives the the first word on the film and it's good. The Hollywood Reporter's John DeFore and The A.V. Club's Nathan Rabin, who writes, "Astonishingly, the fact that Orlando Bloom plays a character named The Stain is only the fifth or sixth most moronic and misbegotten aspect of the film…I should also point out that this is not a comedy but rather an unrelentingly dour, portentous drama that expects us to take this foolishness seriously."
In the U.S. Documentary Competition:
The Reviews Are In for Alex Gibney's "Casino Jack and the United States of Money," about disgraced lobbyist Jack Abramoff: Entertainment Weekly's Owen Gleiberman writes, "'Casino Jack' is really a look at how, and why, the government no longer works — how the culture of Washington was effectively rebuilt to sell itself to the highest bidder." Cinematical's Scott Weinberg concurs, writing, "while 'Casino Jack' is a colorful but unflinching smack at Jack, it also speaks to something a lot larger than just one gang of crooks."
The Reviews Are In for Jennifer Arnold's "A Small Act" about the bond between a Kenyan whose education was sponsored by a German Holocaust survivor: Roger Ebert writes that the film left him "filled with hope."
The Reviews Are In for "Smash His Camera": Besides IFC.com, AJ Schnack has a roundup of reviews. L.A. Weekly's Karina Longworth weighs in with a comparison to "Teenage Paparazzo" and Entertainment Weekly's Owen Gleiberman writes "'Smash His Camera' makes you see why Ron Galella was Andy Warhol's favorite photographer. Galella's photographs…are raw, beautiful, shocking, tender, fascinating, and real. They're proof that starting in the late 20th century, art and voyeurism could no longer be separated."
In the World Documentary Competition Section:
The Reviews Are In for "His & Hers," the Irish love story told entirely by women: The A.V. Club's Noel Murray gives the film a B+. Blast's Ned Prickett found the film to be "funny, moving, and always affecting."
In the Park City at Midnight Section:
The Reviews Are In for the Adrien Brody-starring pot comedy "HIGH School": The L.A. Times' reports on what sounds like a very successful premiere screening.