Sundance Spin for 1/24: Affleck in Good "Company"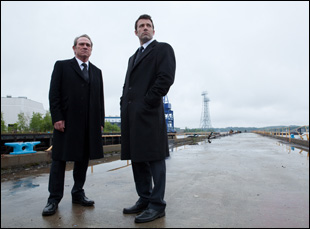 Posted by Stephen Saito on
While our Sundance home page is the place for all our coverage from Park City, here is a brief rundown of what's been going on during the last 24 hours, including an interview with "Tucker & Dale Vs. Evil" star Alan Tudyk, new photo galleries for "Hesher" and "Howl," and reviews of "The Company Men," "Hesher," "Winter's Bone," and "Four Lions."
Said to be close to a sale, Bilge Ebiri expects "The Company Men" to be coming to a theater near you after Sundance. Here's an excerpt from his review, which can be found in full here:
While a variety of films from "Up in the Air" to "The International" have found an icy beauty in the clean lines and empty spaces of modern corporate life, there's a strange, quiet pall cast over the blank offices and boardrooms that make up the landscape of "The Company Men." That antiseptic aesthetic reaches into the narrative as well: Though writer/director John Wells' film is ostensibly about downsizing at a large, established shipbuilding company, there's nary a dinghy in sight. For all the talk of spot-welding and shipyards and hull assembly, all we really see are men and women in suits in large, chilly rooms with little ambient noise to keep them company.
That emptiness – of décor, of sound, of warmth — is one of the reasons why "The Company Men" is such a distinctly uncomfortable movie, star-studded though it is. The other reason, of course, is that it's terrifyingly timely: Ben Affleck plays Bobby Walker, a hotshot exec who arrives at the office one day bragging about his golf game and leaves carrying a cardboard box full of his belongings. He is but one of the thousands of casualties of the latest wave of layoffs at GTX, a manufacturing giant now adrift in the new globalized economy. On the day of the firings, Bobby's boss Gene (Tommy Lee Jones) is out of town at a conference, unaware that thousands of his employees are being let go. Although Gene co-founded GTX with its CEO James Salinger (Craig T. Nelson), he's finding himself more and more out of the loop on key decisions, as the company sheds its humble manufacturing origins behind…
If "The Company Men" ever falters, it's when Wells tries to enliven the proceedings with the occasional ennobling cliché. When Bobby takes a job with his contractor brother-in-law (a great Kevin Costner), the film flirts with the kind of standard-issue working-class mythmaking so pandemic in American movies (and which Mike Judge's "Office Space" skewered so brilliantly with its "Fuckin. A." final scene). Luckily, it's just a tease: Wells pulls back at just the right moment, making it clear that Costner's character doesn't have it any easier than anyone else.
Alison Willmore half-liked "Hesher," premiering in the U.S. dramatic competition. Here's an excerpt from her review, which can be found in full here:
Hesher (Joseph Gordon-Levitt) is magical. Sort of. He doesn't do anything completely out of the realms of believable human behavior, but he does seem pretty impervious to damage, bouncing back easily from falls and kicks to the groin. He's able to appear out of and vanish into nowhere at just the right moment. And he apparently forces another character to have a minor car accident using the might of his air drumming.
Also, he looms outside T.J.'s (Devin Brochu) English class window just as the teacher asks what metaphor a character's dreams represents, which comes across as more of a wink than knock on the head. Everything about the start of "Hesher," the first feature from Spencer Susser, is clever, strange and promising, which makes its eventual downhill gallop into becoming just another indie flick with a dirty mouth and a big, goopy heart of gold terribly disappointing. Not enough "Visitor Q," too much "Mary Poppins."
James Rocchi found much to admire about "Down to the Bone" director Debra Granik's sophomore feature "Winter's Bone." Here's an excerpt from his review, which can be found in full here:
Screening in the U.S. dramatic competition at Sundance 2010, "Winter's Bone" brings to mind a number of prior Sundance highlights. Like "Frozen River," it depicts a woman driven to hard choices by hard circumstances; like "Brick," it sets a teen protagonist into a thoroughly modern set of problems that might be better described by the scenes and structures of classic film noir. Like director Debra Granik's previous Sundance film, 2004's "Down to the Bone," it depicts a very American kind of poverty, one not only of economics but also of emotions. Based on the novel by Daniel Woodrell, "Winter's Bone" has more than just the echoes of other films to offer, though. It has the forward motion of a thriller, yes, and the who-knows-what questions of a mystery. But it also has a delicacy to it, as 17-year-old Ree (Jennifer Lawrence) searches for her absent father while caring for her younger siblings and ill mother, and director Granik, shooting with the RED digital camera, wrings bleak poetry out of the ruined landscape of the Missouri Ozarks…
Granik and cinematographer Michael McDonough shoot with flat, this-is-what-happens authenticity (with the exception of one black-and-white hallucination, where squirrels twitch and shiver in the woods as the sound of chainsaws fills the air), but also wring myth and majesty from the landscape. Ree walks through a landscape that looks like Lear's blasted heath with rusting pickup trucks and abandoned satellite dishes scattered casually through it; when a group of women take Ree to a place of deliverance with brutal kindness and terrible mercy, it is hard not to think of Macbeth's witches.
Alison Willmore is a little confused by "Four Lions," the British Jihadist satire debuting in the World Cinema Dramatic Competition. Here's an excerpt from her review, which can be found in full here:
"Four Lions," the slippery first feature from British comedian/provocateur/fearless satirist Chris Morris, is going to win the above title by default. Few films indeed are willing to combine terrorism and comedy — I've always entertained a soft spot for the train wreck that is Paul Weitz's "American Dreamz" just for trying.
So, infinite points to "Four Lions" for the sheer audacity of its premise, which is made to enrage — four would-be jihadists living in northern England bumble their inept way through ideology, training camp, bomb-making and actual attempted acts of terrorism. But here's the thing: "Four Lions" isn't always a comedy, per se — there are parts that are very funny, but just as many parts that linger on, deliberately and uncomfortably treading the outskirts of a joke without ever getting to it, as if taking audiences to task for thinking themselves worldly enough to want to find laughs in this movie.
Recently added to our Sundance Cheat Sheet:
In the Premieres Section:
The Reviews Are In for the Duplass brothers' latest "Cyrus" starring Jonah Hill, John C. Reilly and Marisa Tomei: HitFix's Drew McWeeny writes "it is a small intimate film that Fox Searchlight can absolutely sell like a mainstream hit. It is a smooth piece of satisfaction, and that's not soft praise." /Film's Peter Sciretta says it's one of the best comedies he's seen at Sundance. IndieWire's Peter Knegt, The Oregonian's Shawn Levy and Salon.com's Andrew O'Hehir approve.
The Reviews Are In Philip Seymour Hoffman's directorial debut "Jack Goes Boating": HitFix's Daniel Fienberg says the film "marks an unexciting, but sturdy directing debut for Philip Seymour Hoffman." New York Post's Kyle Smith also weighs in with a positive notice.
In the Sundance Spotlight Section:
The Reviews Are In for Adrian Grenier's "Teenage Paparazzo": /Film's Dave Chen and Collider's Steve Weintraub didn't expect to like the film, but they did.
In the U.S. Dramatic Competition Section:
The Reviews Are In for Drake Doremus's romantic comedy "Douchebag": John Wildman for Movie City News writes "rather than love, this is the kind of film you 'appreciate.'" The Wrap's Sharon Waxman liked it more.
The Reviews Are In for Tanya Hamilton's "Night Catches Us," starring Anthony Mackie and Kerry Washington as reunited Black Panthers: Boston Globe's Wesley Morris is disappointed, not by the film, but by the attendance for its premiere and calls it, "the movie I wanted — either a wildly ambitious work or an intensely intimate one. The movie we have is weighted with academic import."
The Reviews Are In for the eagerly anticipated Kristen Stewart drama "Welcome to the Rileys": MTV's Eric Ditzian says the performances are fearless and "the film, no doubt, has its share of flaws, from intermittent pacing issues to frequent disruptive arguments that seem to arise from storytelling requirements rather than the relationships and developments between characters. But the script thankfully avoids the clichés and storybook ending to which lesser films might have given in." HitFix's Gregory Ellwood thought it was glacial. L.A. Times' Betsy Sharkey praises the performances.
The Reviews Are In for "Winter's Bone": Besides James Rocchi's review on IFC.com, Salon.com's Andrew O'Hehir calls Granik "a lean and forceful tale-spinner, as courageous in her own way as the indomitable Ree."
In the U.S. Documentary Competition Section:
The Reviews Are In for Chico Colvard's "Family Affair": Hammer to Nail's Pamela Cohn writes "'Family Affair' is a straightforward, but intense, investigation as to why, to this day, 'There are certain things we don't talk about,' despite childhoods that were irrevocably damaging, where 'no help came for so long,' no rescue in sight."
The Reviews Are In for "The Tillman Story," Amir Bar-Lev's followup to "My Kid Could Paint That" about the coverup over the death of football star-turned soldier Pat Tillman: The L.A. Times reports that Michael Moore was impressed, Salon.com's Andrew O'Hehir was too, writing "In this funny, profane and profoundly sad film, Bar-Lev depicts Tillman and his similarly unconventional parents and brothers as belonging to a vanishing species: Americans who hew to no ideological standard, and who actually think for themselves." More from The Wrap's Eric Kohn.
The Reviews Are In for "Smash His Camera," a look at the life of pioneering paparazzo Ron Galella: Consider Vanity Fair's Julian Sancton a fan.
The Reviews Are In for "Waiting for Superman," Davis Guggenheim's indictment of the public school system: AJ Schnack rounds up early reviews of the film. Cinematical's Scott Weinberg writes "Equal parts sickening, fascinating, and inspiring, 'Waiting for Superman' (the title refers to a child's dream of being rescued) takes firm aim at our national education system and asks a few simple but angry questions."
In the World Documentary Competition Section:
The Reviews Are In for "Secrets of the Tribe": HitFix's Daniel Fienberg writes "'Secrets of the Tribe' isn't just about a group of eggheads calling each other names (though there's a lot of that), it's an often provocative interrogation of how all ambitious people impact the world around them and how difficult (or impossible) it is to be a mere observer."
In the World Cinema Dramatic Competition Section:
The Reviews Are In for Taika Waititi's coming of age comedy "Boy": IndieWire's Eric Kohn heartily approves, so does Vanity Fair's Julian Sancton. /Film's Peter Sciretta writes that the film starts off feeling like a mix between a Wes Anderson film and a kiwi 'Son of Rambow,' but quickly becomes a Waititi film — something much more original than 'Eagle vs. Shark,' a more personal film, but ultimately, less entertaining."
The Reviews Are In for "Four Lions": Ain't It Cool's Quint calls it a good, but not great comedy. Hollywood Elsewhere's Jeffrey Wells was similarly nonplussed. On the other hand, Empire loved it and IndieWire's Eric Kohn considers it to "stop just short of becoming a masterpiece."
In the Park City at Midnight Section:
The Reviews Are In for the Ryan Reynolds thriller "Buried": The Oregonian's Shawn Levy calls it "a remarkable combination of cinematic experiment, white knuckle thriller and sly political commentary." Similar raves from The L.A. Times, Film School Rejects, Cinema Blend, Ain't It Cool's Quint and First Showing's Alex Billington.
The Reviews Are In for Adam Green's horror flick "Frozen": Cinematical's Eric D. Snider writes, "Yes, the talking parts are only average; yes, the acting is solid but unremarkable; yes, the premise is simple. That's why it's all the more impressive that Green can spin it into a 90-minute film with several genuinely thrilling or horrific moments." Dread Central's Debi Moore thinks it's a step forward for director Green.
The Reviews Are In for the Sarah Polley-Adrien Brody monster movie "Splice": FirstShowing.net's Brandon Lee Tenney writes the film is "horrifying, mesmerizing, and always spine-tingling." Ain't It Cool's Quint thinks it may only be for genre fans, but for them, it's well worth the time. FearNet's Scott Weinberg and Salon.com's Andrew O'Hehir were more impressed.
Features: Karina Longworth ventures to Slamdance to cover the premiere of Steven Soderbergh's first documentary, "And Everything Is Going to be Fine" about the late Spalding Gray. Director Adriana Maggs talks up her World Cinema competition title "Grown Up Movie Star." "HappyThankYouMorePlease" star/writer/director Josh Radnor talks to Movieline. "Welcome to the Rileys" director Jake Scott started a guest blog on /Film. The L.A. Times catches up with "The Freebie" director Katie Aselton and Filmmaker does the same with "The Killer Inside Me" director Michael Winterbottom.
Acquisitions: Lionsgate picked up the Ryan Reynolds thriller "Buried" for $3.2 million. Entertainment Weekly reports that you'll be able to see the Spike Jonze short "I'm Here" right here on IFC, followed by an online release.