Sundance Spin for 1/23: "Catfish" Catches Fire, "Nowhere Boy" Set Straight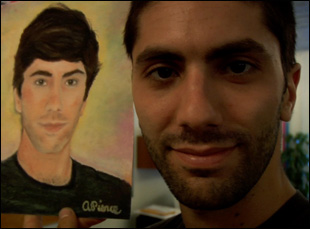 Posted by Stephen Saito on
While our Sundance home page is the place for all our coverage from Park City, here is a brief rundown of what's been going on during the last 24 hours, including reviews of "Catfish," "Nowhere Boy," "Please Give," and "HappyThankYouMorePlease."
Alison Willmore enjoyed the documentary that's become the talk of the festival, "Catfish," which premiered in the Spotlight section. Here's an excerpt from her (spoiler-heavy) review, which can be found in full here:
You can see why Ariel Schulman, who co-directed alongside Henry Joost (both also figure in largely on screen), started chronicling the development of his brother Nev's online friendship with Abby Pierce, an eight-year-old art prodigy living in upstate Michigan. It's adorable, it's a novelty, it's a Good Story.
And you can see why Nev, a 24-year-old photographer, agrees to it. Abby reached out to him, mailing him a painting of a picture of two dancers he took for a New York paper. It's flattering and charming — she messages him cute updates on her life (her pet snake dies, but didn't eat his last meal, and so now she has a pet mouse), and he, in turn, offers her benevolent encouragement.
Soon Nev is being Facebook friended by Abby's mom Angela, who tells him how surprised she is that her daughter's artwork is in serious demand from collectors; then her dad; her brother, who's in a band; their friends and extended family; and Megan, Abby' beautiful, virginal half-sister who lives further out of town on a horse farm, who likes music, dancing and, it becomes clear, Nev. They offer a seductive group portrait of what's almost outsider art, or at least art freed of commodity — sincere, unguarded people who paint and draw and write music and don't seem to feel the need to be careerist or trumpet their own potential…
"Catfish" was filmed on the fly, with cameras sometimes planted on tables or car dashboards, but that haphazardness, and the transparency of the discussions of when and what it's okay to shoot make sense. The story's nicely broken up with Google Earth sequences in which we swoop from the Manhattan loft shared by Nev and the filmmakers down to Abby and Angela's address. It reinforces that it's become so easy to, say, zoom in on an image of someone's house, but not really know who lives there, or to learn about someone's innermost thoughts, but not have any actual idea of what that person's life is like. In that way, the narrative "Catfish" ends up spinning is one of a sort of sad, unusual love story.
Willmore also caught "Nowhere Boy," Sam Taylor Wood's biopic of the young John Lennon that made its U.S. bow at Sundance. Here's an excerpt from her review, which can be found in full here:
Director Sam Taylor-Wood is an artist who shot the acclaimed 2008 short "Love You More" before making her feature debut with "Nowhere Boy," and seems with the latter to have committed herself to making something stalwartly straightforward, never pushing toward any visual or narrative inventiveness. She is, at least, unafraid to show that Lennon can be a real shit to his family and to his friends, prone to fits of anger and cruelty, while also making it clear why they and everyone else adored him anyway. It helps that he's played by [Aaron] Johnson, who'll be making a splash soon with "Kick-Ass" and who's utterly magnetic here despite bearing no particular resemblance to the man he's channeling. (He's this Sundance's Carey Mulligan, who he incidentally starred with in a film from last year's festival that has yet to reach theaters, "The Greatest.") Raising low-key Liverpudlian hell with a friend, charming girls on the street, riding on bustops and stealing what turn out to be (accidentally) jazz records from a shop, his joy in himself and his own semi-rebellious youth is irresistible.
Matt Singer valued "Please Give," the latest from "Friends With Money" director Nicole Holofcener that made its world premiere. Here's an excerpt from his review, which can be found in full here:
[Holofcener's] latest film "Please Give" fits comfortably within the style she's established in her three previous works, "Walking and Talking," "Lovely & Amazing," and "Friends With Money." This time, [Catherine] Keener stars as Kate, who runs a vintage furniture store on New York's Lower East Side with her husband Alex (Oliver Platt). Their store is successful and their life with the daughter Abby (Sarah Steele) is comfortable. But Keener acquires most of her furniture at estate sales, primarily by conning people into thinking their dead loved ones' possessions aren't valuable and then selling them in her store at a huge markup. It's not exactly the most ethical profession, and Kate feels bad about it. She tries to alleviate her guilt by exploring volunteer opportunities and by giving excessively to panhandlers on the street, much to the chagrin of her daughter, who accurately observes that Kate would rather give $20 to a homeless man than to spend it on her. Here, Holofcener continues a theme from her previous two films: the way money divides and erects invisible barriers between haves and have nots, even within friendships, or marriages…
The central dilemma to the movie is the question of what to do with people's possessions when they pass on; in that sense, the film is something of an American version of Olivier Assayas' recent film "Summer Hours." Both movies spend a lot of time puzzling over the value of everyday objects. "Summer Hours" asks "What is it that makes something valuable?" "Please Give" asks "Is it fair to declare something valuable?" Holofcener examines the issue effectively, thoughtfully, and humorously for an hour and a half and doesn't ultimately arrive at an answer. I wouldn't have expected her to. She's not interested in moralizing; her brand of comedy is about observation, not judgment.
Sam Adams wasn't excited about "How I Met Your Mother" star Josh Radnor's directorial debut, "HappyThankYouMorePlease," a multistranded romantic comedy that debuted in the U.S. Dramatic Competition. Here's an excerpt from his review, which can be found in full here:
Radnor unsettles his protagonists' prolonged adolescence with a handful of plot devices that, even at Sundance, strain the boundaries of winsome contrivance. For starters, there's the young African-American boy (Michael Algieri) whom Radnor picks up on the subway, a foster-care refugee whom he ends up taking in for several days. At the same time, he picks up a sharp-tongued but melancholy barmaid (Kate Mara) — you can tell she's sad inside on account of the massive amounts of black eyeliner she wears — and coaxes her into signing a contract to move in with him for three days.
That he immediately starts backing out, and that it therefore amounts to no more than a ruse to get an emotionally fragile woman to sleep with him on the first date, is noted in passing, but the movie never quite takes stock of the fact that this makes Radnor's character more than a bit of a prick — a fault which neatly encompasses "HappyThankYou"'s shortcomings. Radnor has his finger on a real phenomenon: the reluctance with which white, middle-class Americans approach adulthood, and their ability to construct complicated rationales to justify their fear of growing up. [Zoe] Kazan's character, for one, rebuffs her boyfriend's proposal by pointing out that she comes from a long line of divorcées, as if her snakebit recoil from the prospect of future plans were a matter of principle.
But the movie lacks any real sense of perspective, or performances that might expand the characters beyond their bland outlines.
Recently added to our Sundance Cheat Sheet:
The Reviews Are In for John Wells' "The Company Men" with Ben Affleck and Tommy Lee Jones: HitFix's Gregory Ellwood contends the drama may be the year's first Oscar contender. The Oregonian's Shawn Levy calls it a "sober look at the current hard times." Jeffrey Wells says "It's an honest and competently assembled attempt to capture the Great Recession lamentations of the moment, but the story just kind of plods along." EW's Owen Gleiberman calls the performances "superb."
The Reviews Are In for the Bill Murray-Robert Duvall starrer "Get Low": Positive notices abound from MTV, ScreenCrave, Film.com, We Are Movie Geeks and JoBlo.
The Reviews Are In for "Nowhere Boy": In addition to Alison Willmore's take, New York Post's Kyle Smith is a fan, and Cinematical's Erik Childress isn't. Cinema Blend's Katey Rich, JoBlo's Chris Bumbray, Cinema Blend's Katey Rich, Aint It Cool's Quint and PopMatters's Andrew Blackie weigh in.
The Reviews Are In for "Please Give": L.A. Weekly's Karina Longworth writes, "Holofcener eschews the standard anti-commercialism of indie film to present the accumulation of wealth and stuff as the complicated moral process it is. 'Please Give' may about-face from Holofcener's unique darkness a little too quickly for my tastes, but I appreciate its celebration of the positive potential of consumerism." The L.A. Times' Betsy Sharkey is quite fond of the film, as is The Oregonian's Shawn Levy.
An Early Review Is In for Kristen Stewart and Dakota Fanning's rock star flick "The Runaways": Colin Covert of the Star-Tribune lived up to his surname with an early peek at the film and says Fanning steals it from Stewart.
The Reviews Are In for the Aussie musical "Bran Nue Dae": HitFix's Drew McWeeny writes "'Bran Nue Dae' isn't a particularly deep film, but it is a joyous film, and a genuine emotional experience."
The Reviews Are In for "Catfish": The L.A. Times' Tim Swanson says the filmmakers' "persistence and compassionate questioning ultimately reveal not only our collective capacity for self-deception, but also the notion that true interpersonal connection comes not from showing our strengths, but from exposing our weaknesses." Cinema Blend's Katey Rich also liked it very much, as did the Ft. Worth Star-Telegram's Christopher Kelly.
The Reviews Are In for "HappyThankYouMorePlease": In addition to Sam Adams, HitFix's Gregory Ellwood says the film is the festival's first crowd-pleaser, Hollywood Reporter's Kirk Honeycutt concurs. A.V. Club's Nathan Rabin calls it a "passable time-waster."
The Reviews Are In for the Joseph Gordon-Levitt starrer "Hesher": The Auteurs' David Hudson rounds up responses. And they're not kind, if we're to believe Sharon Waxman, HitFix's Gregory Ellwood, and IndieWire's Peter Knegt. New York Post's Kyle Smith quite enjoyed it.
The Reviews Are In for Laura Poitras' doc "The Oath": IndieWire's Eugene Hernandez enjoyed its complexities.
The Reviews Are In for the Killing Fields doc "Enemies of the People": HitFix's Daniel Fienberg calls the film "powerful."
The Reviews Are In for "The Red Chapel": At her new blog VoiceFilm.com, Karina Longworth compares the film to Sacha Baron Cohen's antics and was pleased she missed "Restrepo" to see it. Daniel Fienberg looks at the film for HitFix, and Hammer and Nail's Pamela Cohn follows suit.
The Reviews Are In for the Guy Pearce thriller "Animal Kingdom": Movieline's S.T. VanAirsdale calls the film "the first great drama of Sundance. Dark Horizons' Paul Fischer is equally enthusiastic.
The Reviews Are In for Taika Waititi's coming of age comedy "Boy": IndieWire's Eric Kohn heartily approves.
The Reviews Are In for the French "Saw"-esque thriller "7 Days": Film School Rejects' Neil Miller said the film made him numb…in a good way. Cinema Blend's Katey Rich chimes in.
The Reviews Are In for the buddy horror flick "Tucker and Dale Vs. Evil": HitFix's Drew McWeeny thinks the film tries too hard. Film School Rejects' Neil Miller disagrees.
Features: The L.A. Times has a profile of "The Company Men" writer/director John Wells. Two extensive new articles on the NEXT entry "The Taqwacores" from the Park Record and Salt Lake Tribune. The New York Times goes long on Jennifer Arnold's Haiti-related doc "A Small Act." IndieWire has new interviews with "Winter's Bone"' Debra Granik, "Night Catches Us"' Tanya Hamilton, "Welcome to the Rileys"' Jake Scott, and "Freedom Riders"' Stanley Nelson. IonCinema.com has an interview with "Lucky" director Jeffrey Blitz. And MovieMaker talks to "Buried" screenwriter Chris Sparling.
Acquisitions: Gordon and the Whale reports that Tim Rutili's ghost story "All My Friends Are Funeral Singers" was picked up by IndiePix on January 22nd for distribution.