Sundance Spin for 1/22: "HOWL" Resounds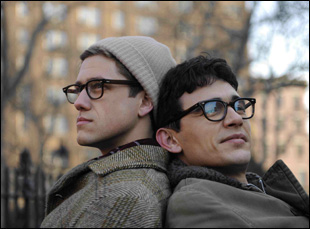 Posted by Stephen Saito on
While our Sundance home page is the place for all our coverage from Park City, here is a brief rundown of what's been going on during the last 24 hours.
James Rocchi went to the opening night premiere of "HOWL," the narrative debut of "The Life and Times of Harvey Milk" documentarians Rob Epstein and Jeffrey Friedman and is in the U.S. Dramatic Competition. Here's an excerpt from his review, which can be found in full here:
"HOWL" is a film full of contradictions, wave upon wave of contrast and complication crashing over each other with undeniable power and, occasionally, incomprehensible purpose. Directors Rob Epstein and Jeffrey Friedman interlace three separate moments surrounding Allen Ginsberg's seminal (in every sense of the word) 1955 poem "HOWL," giving us a reading of the poem itself, a re-creation of a 1957 interview with Ginsberg (played here by James Franco) and a re-enactment of key moments from the 1957 San Francisco obscenity trial brought against publisher Lawrence Ferlinghetti after "HOWL"'s publication. There's no scripted moments or added dialogue; everything is taken from the poem itself, the interview, or the court record.
So "HOWL" is a documentary with actors. Or a dramatic film that presents nothing more and nothing less than what actually happened. It's a paean to the power of the spoken word that feels the need to enhance and embellish Franco's reading of the poem with animated sequences. It's a portrait of a long-bygone furor over a poem that invoked obscenity and homosexuality and other issues that are far from settled. It gives us mighty clashes between lawyers (David Strathairn for the prosecution; Jon Hamm for the defense) without telling us who, or why, these litigators have taken these positions. It shows a trial that in many ways ensured the fame, and infamy, of the very text it was trying to suppress. It's an art film with big-name actors.
Meanwhile, Alison Willmore saw "Restrepo," Sebastian Junger and Tim Hetherington's documentary about the war in Afghanistan that is competing in the U.S. Documentary Competition. Here's an excerpt from her review, which can be found in full here:
Junger and Hetherington shot the film themselves, and have some spectacular combat footage that's almost difficult to wrap your head around — the handheld camera, the whip pans to action that's already going on, the sense of adrenaline-addled disorientation has become the cinematic language of modern war, and when the film dumps you directly into an encounter with an IED, it takes work to remind yourself that it's not, in fact, "The Hurt Locker," and that the bullets peppering the ground at the feet of the man you're watching would take at least a few toes off if they connected.
Pointing out that "Restrepo" is a nonfiction companion to "The Hurt Locker" are unavoidable — there are direct echoes in the way the men interact, in the generally apolitical tone, in the microfocus and structuring around timeframe instead of narrative arc, in the observation made by one man getting shot at is an incomparable high. But I was also reminded of Kimberly Peirce's muddier, emotionally anguished "Stop-Loss," in terms of the tenderness with which the soldiers are treated, and in the portrayal of their sense of brotherhood. The film peppers footage taken during the year with more intimate interviews with some of them afterward, boys with baby faces and tough-guy tattoos who alternate between looking world-weary and painfully young. That tenderness, I think, is partially a natural outgrowth of being embedded, and part of the reason embedding exists. How can you live with a group of people, unified under the threat of constant danger, without feeling like you're invested, one of them, part of the team?
It's not a complaint, more an observation — there were times when I wondered if the film was being particularly gentle with its subjects, who all come across as very nice boys; who are, for the most part, free of virulent racism; and who might come to hate the assignment, but who never regret serving their country.
Willmore also took in Diane Bell's "Obselidia," a dramedy about a librarian who joins with a silent movie projectionist who endeavor to create a compendium of obsolete things in the U.S. Dramatic Competition. Here's an excerpt from her review, which can be found in full here:
What's heartbreaking about "Obselidia" is the gap between the film itself and the guilelessly chosen references it insists on throwing out like a high schooler who's studied up on what he thinks are the right bands, books and movies to impress a college girl he met. George and Sophie visit Zabriskie Point and wander through the Museum of Jurassic Technology, and Sophie admits that her last relationship didn't work out because her boyfriend didn't like foreign or black and white films. "I just don't know if I can be with someone who won't watch 'Au Hasard Balthazar,'" she confesses.
If I heard someone say that in real life, I would be overcome by an urge to punch that person in the face. Fortunately for me, then, no one in "Obselidia" bears a resemblance, even in a stylized sense, to any flesh and blood being I've ever encountered.
Recently added to our Sundance Cheat Sheet:
The Reviews Are In for "HOWL": One need not read any further than David Hudson's roundup at The Auteurs, but if you must Karina Longworth, the L.A. Times' Betsy Sharkey, Hollywood Elsewhere's Jeffrey Wells, MTV's Josh Horowitz, Movieline's Seth Abramovich, Variety's Todd McCarthy, HitFix's Drew McWeeny and The Hollywood Reporter's Kirk Honeycutt all weigh with mostly positive (but some mixed) notices.
Meanwhile, at Movie City News, Larry Gross gives the the first word on Mark Ruffalo's "Sympathy for Delicious" and it's good. Ditto for the New York Post's Kyle Smith on the early John Lennon biopic "Nowhere Boy," though Cinematical's Erik Childress isn't a fan.
New clips… for the Kristen Stewart-Dakota Fanning flick "The Runaways" (which also has a new poster), "Sympathy for Delicious," the Ryan Gosling-Michelle Williams' anti-romance "Blue Valentine", Debra Granik's "Winter's Bone", Philip Seymour Hoffman's "Jack Goes Boating," the Guy Pearce thriller "Animal Kingdom," and a new trailer for the Duplass brothers' "Cyrus" with John C. Reilly, Marisa Tomei and Jonah Hill.
DuplassWatch: Besides the "Cyrus" trailer, plenty of new stuff came out for the Mark Duplass-produced titles "The Freebie," including an exclusive clip from the film at MTV Movies Blog and a David Poland hour-long interview with director and star Katie Aselton and co-star Dax Shepard. The U.S. competition title "Lovers of Hate" also got Poland's video interview treatment with a talk with director Bryan Poyser and ComingSoon.net is hosting an exclusive clip and an interview with Duplass.
Features: The L.A. Times profiles Adrian Grenier's "Teenage Paparazzo" while IndieWire talks to "The Taqwacores" director Eyad Zahra and "Gasland" director Josh Fox. Filmmaker Magazine talks with Henry Joost and Ariel Schulman, co-directors of the mysterious doc "Catfish."
Acquisitions: Paramount Vantage made the first splash of the festival by reuniting with "An Inconvenient Truth" director Davis Guggenheim by picking up the rights to his education in America doc "Waiting for Superman."
Last Minute Addition to the Spotlight Section: "Exit Through the Gift Shop" (Official site, trailer)
Director: Banksy
The Gist: "Notting Hill" star Rhys Ifans narrates this surprise spotlight screening that may prove to be elusive as its subject, the street artist Banksy, who tagged four walls in Park City to make the announcement that the film about a filmmaker named Terry Guetta who befriends the underground stencilist and follows the exploits of renegade artists the world over.
Must Read: BBC News feature on the film.