"Smash His Camera," but this picture will last a lifetime.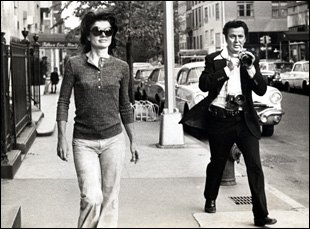 Posted by Bilge Ebiri on
Reviewed at the 2010 Sundance Film Festival.
"He does for the living what Weegee did for the dead" is how one talking head in Leon Gast's "Smash His Camera" explains Ron Galella, the notorious ur-paparazzo famous both for his striking candids of celebrities across the decades and his relentless pursuit of his glamorous quarries. It's an apt description; much as Weegee's photographs turned the gritty streets and crime scenes of the Naked City into something resembling a Martian landscape, Galella's shots enhance the otherworldly nature of fame, even as they pretend to demystify it. Maybe that's the biggest difference between Galella's heyday and today's – those "Celebs: They're Just Like Us!" photos of Jessica Simpson buying a Big Gulp have none of the surreal, untouchable allure of Jackie Onassis crossing the street. (The former first lady and fashion icon was never lovelier or more mysterious than in Galella's 1974 "Windblown Jackie," which the photographer rightfully describes as his Mona Lisa.)
For all its fascination with glamour and the larger-than-life persona of Galella, Gast's jaunty, charming documentary is deceptively complex, tackling big issues with effortless clarity. The subject is certainly fun to watch, but to what extent is what he does an invasion of privacy – and what does that word even mean? (Constitutional lawyer Floyd Abrams points out that there is no general right to privacy in American law.) In watching the photographer do his thing, and in letting him regale us with his tales of run-ins with celebs, Gast makes it clear that Galella was an integral part of a celebrity feedback loop that made the rich and famous even more famous and probably richer, too. Maybe that's why Jackie O was the one who actually went so far as to sue the photographer; as recounted here — when questioned during the trial if she was a public person, her response was a matter-of-fact "No." She was one celebrity who tragically didn't ask for her notoriety.
It also helps that the photos are, in a word, magnificent. In a scene late in the film, Gast's camera follows a teenage girl as she peruses a gallery filled with Galella's photos. The girl doesn't know any of these people: Steve McQueen, Elizabeth Taylor and Richard Burton, Henry Kissinger, they're all strangers to her. But she does seem taken with the photos themselves. Gast seems to suggest something here about the impermanence of celebrity and the lasting nature of art: These glorious pictures may wind up being all that remains of these mythical, untouchable deities, long after their names have scattered into the wind.
"Smash His Camera" does not yet have U.S. distribution.
[Photos: "Smash His Camera," Got the Shot Productions, 2010]