Sex, drugs and Dakota Fanning.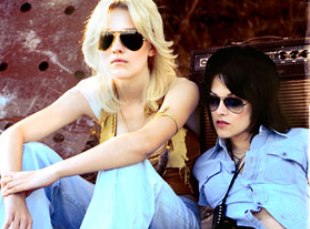 Posted by Brandon Kim on
Generally positive reviews for "The Runaways" and even swoons over the performances by Dakota Fanning and Kristen Stewart that propagated out of Sundance have given way to somewhat lewd commentaries and unsavory back room interviews. I should really be there.
Listen to this salacious questioner ask Kristen Stewart what it was like wielding a guitar. "I mean a rock and roll electric guitar, it is a great big phallic symbol. What was it like sort of strapping that on?"
I was hoping she'd reject the leering query, but she happened to have a personal anecdote about Joan Jett (who was on set everyday and exec producer). "Whenever I wasn't coming from the right place, she [Jett] was always like, "Kristen, Pussy to the wood! Fuck the guitar!" [from Cinematical]
Gracious. Listen to the whole thing including the two teenagers struggling to answer questions about their sexuality.

Listen from 3:20 onward
And here's another one with Stewart squirming when asked about the repercussions of the scene in which she and Fanning, as Jett and Currie, snort a bunch of blow in a bathroom. Presumably, legions of fragile "Twilight" fans and their parents will be scandalized. Stewart makes light of it, clearly not comfortable being thought of a teen role model nor desiring the responsibility of such a label. MTV seems to be putting words in her mouth in the article.
Fanning goes on to explain that "This is like real people, this is their real experience," pointing out the real life origins of the film. "It's the story," she adds simply. That's right, it's the story, and anyone who can't handle a true story should maybe stick to "Twilight."
Incidentally, I don't know what's up with the transcription there again: "[Us doing drugs] is just about finding the beats, you know what I mean?"
She doesn't say anything about "beats," she clearly says they were snorting vitamin b, which is what people snort in the movies when it looks like they're snorting cocaine you know.