The seven strangest faces of Gary Oldman.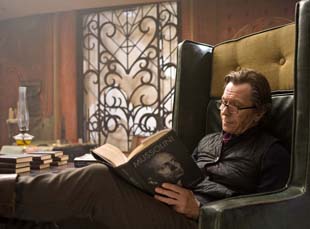 Posted by Vadim Rizov on
When I first saw the trailer for "The Book of Eli," I thought "Wow, that bad guy looks familiar, but I can't place him." It was irritating. Then I looked it up and realized it was Gary Oldman, and the reason I didn't recognize him is because we almost never see his real face. Almost certainly one of the most talented actors in the world today — one of the few who doesn't make radical transformations for a role as a stunt — Oldman keeps himself fresh precisely because it's sometimes hard to remember what he looks like when you take off all the makeup and facial fair. His makeovers are like no one else's. Here's seven of his strangest:
Drexl Spivey, "True Romance" (1993)
Even people like me who don't like "True Romance" too much — Tony Scott amps up Tarantino's worst aspects, though Tarantino himself was a big fan — have to bow before the flawless conceit of Oldman as a dreadlocked pimp and all-round bad guy speaking some kind of accent only he thinks is right and discoursing on the genius of "The Mack." Tarantino's received much (understandable) flack for his unapologetic co-opting of African-American culture and loaded epithets; Oldman's genius, for once, gives him a plausible white stand-in with the same issues, equal parts convincing and ridiculous. (It goes without saying this is NSFW.)
Jean-Baptiste Emanuel Zorg, "The Fifth Element" (1997)
Luc Besson's super-expensive pièce de résistance — all $80 million is on-screen — if you're going to make the most expensive film in French history (to date, anyway), this is the way to do it. But giving all the special effects a run for their money is Oldman: half his head is shaved and covered by a translucent plate, the other half is a slicked-over cowlick, and the voice is an unlikely tribute to H. Ross Perot.
Buford Dill, "Nobody's Baby" (2001)
This is an obscure vehicle in which Gary Oldman and Skeet Ulrich are given equal billing, which speaks for itself. (Direct to DVD? Indeed.) The real story, apparently, is Oldman as one "Buford Dill," a criminal with mutton chops tucked beneath a cowboy hat. The plot apparently involves Oldman and Ulrich taking care of a baby rescued from a car crash while the quirky denizens of the local trailer park help out. Below, watch Oldman do a weird little dance on someone's lawn; if you stick it out to the end of the movie, apparently you get to see Oldman and Mary Steenburgen line-dancing. Maybe I should rent this.
Mason Verger, "Hannibal" (2001)
In the original theatrical release of "Hannibal," Oldman isn't even in the credits; depending on who you believe, that's either because he threw a violent hissy-fit when his request to be equally billed alongside Julianne Moore and Anthony Hopkins was denied, or (according to him) a tacit acknowledgment of his shape-shifting ways. Either way, with a violently mauled face that would render anyone unrecognizable, Oldman camps it up in one of the few true guilty pleasures I have. This is a movie so fearsomely inept that it uses the "Goldberg Variations" as Hannibal's motif, "The Blue Danube" as Verger's, and simply plays them both at the same time when they meet.
Rolfe, "Tiptoes" (2003)
The legendarily misguided "Tiptoes" stars Matthew McConaughey as the only person in his family who isn't a dwarf, causing all kinds of angst about how to break the news to fiancée Kate Beckinsale (playing Jewish!) and concern whether he should extend the family tree. Oldman shrinks to play a little person, or rather the entire performance has the actor kneeling with prosthetics. For once, the effort may not have been worth it. Not because he isn't convincing (when isn't he?), but because we're supposed to believe he's McConaughey's twin brother.
Commissioner Gordon, "Batman Begins" (2005)/"The Dark Knight" (2008)
In the life imitates art category: correct me if I'm wrong, but I don't really remember Gary Oldman rocking a thick, plushy mustache before the Batman franchise was rebooted. In my mind's eye, a recognizable Oldman is basically an Oldman without facial hair, whether he's a British soccer hooligan or Lee Harvey Oswald. But after the Batman movies, you can see him rocking Gordon's thick 'stache extracurricularly on a regular basis. Or maybe the fact that he wore it to "The Book of Eli"'s premiere speaks to his commitment to a third Batman film. Surely, you don't think Oldman would be so shameful as to use a fake mustache?
Gary Oldman, "Greg The Bunny" (2002)
Okay, so this is Oldman as himself (although even that's kind of disorienting), but it's too good to leave off. This is the best "Hamlet" audition you'll ever see.
[Photo: "The Book of Eli," Warner Bros., 2010.]