"Please Give," but not too much.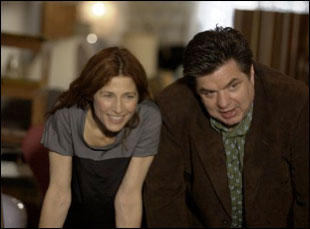 Posted by Matt Singer on
Reviewed at the 2010 Sundance Film Festival.
In her own quiet way, writer/director Nicole Holofcener's films constitute a brand of comedy as easily recognizable as Judd Apatow's. Anyone familiar with her work can recognize her films by their low-key approach to story, their female-centric ensembles and insight into the dynamics of relationships between women, and by their flair for asking uncomfortable questions of the characters and of the audience. I guess in this analogy Catherine Keener, who's appeared in all four of her films to date, would be Holofcener's Seth Rogen.
Her latest film "Please Give" fits comfortably within the style she's established in her three previous works, "Walking and Talking," "Lovely & Amazing," and "Friends With Money." This time, Keener stars as Kate, who runs a vintage furniture store on New York's Lower East Side with her husband Alex (Oliver Platt). Their store is successful and their life with the daughter Abby (Sarah Steele) is comfortable. But Keener acquires most of her furniture at estate sales, primarily by conning people into thinking their dead loved ones' possessions aren't valuable and then selling them in her store at a huge markup. It's not exactly the most ethical profession, and Kate feels bad about it. She tries to alleviate her guilt by exploring volunteer opportunities and by giving excessively to panhandlers on the street, much to the chagrin of her daughter, who accurately observes that Kate would rather give $20 to a homeless man than to spend it on her. Here, Holofcener continues a theme from her previous two films: the way money divides and erects invisible barriers between haves and have nots, even within friendships, or marriages.
But Keener's dilemma is only about half the film. Kate's family lives in an apartment building next to a 90-year-old woman named Andra (Ann Guilbert). When Andra dies, Kate has dibs on her apartment, but in the meantime she has to maintain an air of politeness with the cranky old woman and the granddaughters – shy Rebecca (Rebecca Hall) and brash Mary (Amanda Peet) – who take care of her. Trying to keep up the appearance that they're not just waiting for Andra to die so they can move into her place, Kate and Alex throw her a birthday party that is the film's comedic highlight. The perpetually grumpy Andra, terrifically played by Guilbert, is only happy when she's miserable. When asked how her birthday cake tastes, she pauses and responds with a single word: "Dry."
Andra seems totally incapable of finding any joy in what's left of her life – when Rebecca drags her on a fall foliage trip, she stands away from everyone else and turns her back in protest – but does that make it alright for Kate and Alex to talk about what they're going to do her apartment once she's dead right in front of her? At one point, Kate discovers that someone who bought an expensive table in her store is selling it in his own gallery at a $1500 markup. Kate tricked the man into selling her the table for cheap; does the fact that she could have sold it for even more than she did make it any less unsavory? Holofcener has a knack for creating recognizable (and often distasteful) characters and then thrusting them into those sort of queasy moral dilemmas to see how they'll react. Actors talk a lot about wanting great parts, but most times what they're really saying is they want great parts where they can play likable people. I suspect Holofcener keeps casting Keener because not only is a superb, natural actor, she seemingly has no problem playing characters who the audience might perceive as petty or cruel or dumb or indifferent.
The central dilemma to the movie is the question of what to do with people's possessions when they pass on; in that sense, the film is something of an American version of Olivier Assayas' recent film "Summer Hours." Both movies spend a lot of time puzzling over the value of everyday objects. "Summer Hours" asks "What is it that makes something valuable?" "Please Give" asks "Is it fair to declare something valuable?" Holofcener examines the issue effectively, thoughtfully, and humorously for an hour and a half and doesn't ultimately arrive at an answer. I wouldn't have expected her to. She's not interested in moralizing; her brand of comedy is about observation, not judgment.
"Please Give" will be released by Sony Pictures Classics on April 23rd.