Pee-Wee Herman, father of modern comedy.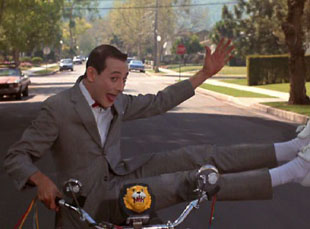 Posted by Vadim Rizov on
In a way, Conan O'Brien's unceremonious ejection from NBC was the best thing that has happened to Pee-Wee Herman in a while. With ratings through the roof and the nation watching, Pee-Wee — who'd already been on earlier in the show's run — returned for the penultimate show, explaining O'Brien's dilemma with a couple of stuffed toys and the usual grating/endearing laugh. Now, it wasn't just the confirmed Pee-Wee addicts and Angelenos who knew that Pee-Wee was back, live and on-stage, seeking a new movie.
Because the stage show was delayed while venues were switched, Herman (Paul Reubens) has been doing post-show meetings with people who had to change their tickets to explain and apologize. During one such session, he reminded them that the Pee-Wee movie scripts he's been sitting on for a while were a big factor behind the show; the surge of attention should remind skeptical executives he's still a good bet. "They've remade everything from the '80s except me," he said.
That'd be funnier if it wasn't basically true. What's interesting, though, is how in some ways a Pee-Wee movie would be redundant. Because who was it if not Pee-Wee who gave benediction to the current, oft-bemoaned generation of man-kids who — at least until recently — ruled American comedy?
It was Reubens who made the man-kid an acceptable comic figure. Granted, he did it his way: make-up, feyness, an ambivalent sexuality, a conceptual weirdness that somehow went down easy. But when Reubens hung up the red bowtie during the early '90s, a series of developmentally arrested comedians filled the void, starting with Adam Sandler's slacker take and continuing into the naughts with Will Ferrell regressing from a fraternity die-hard to immature elf to, finally, bratty kid who won't leave the house in "Step Brothers," and frequent Ferrell collaborator Judd Apatow perpetuating male adolescence.
It's "Step Brothers," of course, that's the clearest descendant, with not one but two semi-Pee-Wees wandering around being destructive and screaming loudly without waiting for the secret word. But it's mostly the pretense that comedy was about recognizable adults — not sloppy guys barely controlling their ids — that Herman killed. When he hit the scene in the '80s, the comedies in vogue were largely T&A teen sex romps (populated by older actors playing teens), ZAZ spoofs ("Airplane!," "Naked Gun" et al.), Bill Murray and, uh, "Police Academy." And in all of these, you had people more or less playing themselves.
However, it was Pee-Wee who brought the idea that comedy was less about the lines you were saying and more about the voice and twisted perspective you brought to bear on them to the forefront. From Pee-Wee to Ron Burgundy really isn't that big a leap: you just change the trappings and frame of reference, and it falls into place. Comedy becomes a product of one persona, hammered upon repeatedly.
So Reubens is wrong in a way: they did remake Pee-Wee Herman, but they took off the make-up, added a beer gut and some club nights and a lot more swearing. It's a watered down version of Reubens' already filtered version of the initially confrontational, performance arty traditions he was drawing on. Still, a new Pee-Wee film wouldn't be unwelcome, especially since Reubens appears spry and small enough to pull it off. We could use our own Monsieur Hulot.
[Photos: "Pee-Wee's Big Adventure," Warner Bros., 1985; "Step Brothers," Columbia Pictures, 2008; "Anchorman," DreamWorks, 2004.]