A paycheck's a paycheck: Seven unapologetic hack directors.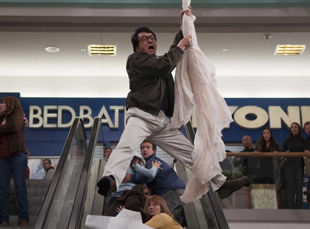 Posted by Vadim Rizov on
Depending on your proclivities and where you live, here are the three most important directors with movies opening Friday: Andrea Arnold (whose "Fish Tank" opens in New York), the Hughes brothers (formerly of "Menace II Society" and long past their sell-by date, whose "The Book of Eli" opens wide) and Brian Levant.
It's Mr. Levant, director of "The Spy Next Door," who primarily concerns me, and I'm maybe using a different sense of the world "important" in his case. Aside from the remarkable fact that his movie involves Jackie Chan sharing co-star credit with George Lopez and Billy Ray Cyrus, and that it's currently rocking zero percent approval on Rotten Tomatoes — this alleged comedy looks like one of the worst hack works to recently straggle into theaters.
You might look at a movie like "The Spy Next Door" (whose tagline — "Part spy. Part babysitter" — has been amended by some anonymous wag at my subway stop to "Fart spy. Fart babysitter.") as just another kids' movie by some anonymous hack. But anonymous hacks grow moss among us, garnering the careers owed to others through sheer persistence. Below, seven of the worst offenders.
Brian Levant ("Problem Child 2," "The Flintstones," "Snow Dogs")
After doing sitcom-writing time on "Mork & Mindy" and "Happy Days," among others, Levant took his skills to the big-screen, debuting with "Problem Child 2," a continuation of the series that combined divorce guilt with "Bad Seed" tendencies. For wrangling the massive technical challenges of "The Flintstones" (a movie with an oddly high effort:value ratio), Levant got a reprieve of sorts — everyone loves a good sport — only to make the legendarily leaden "Jingle All The Way," a time capsule of holiday shopping madness and not much else. Aside from the below, Levant's last credit was the direct-to-vid "Scooby-Doo! The Mystery Begins," picking up the franchise from arch-hack Raja Gosnell (see below). Some choice moments from "Snow Dogs":
Shawn Levy ("The Pink Panther," "Cheaper By The Dozen," "A Night At The Museum")
Levy — who graduated Yale at 20 after a decent career as a late-teenage actor — is clearly not a dumb guy, which makes his highly profitable ventures into cynical film hackery all the more woeful. Whether mutually building his investments with Steve Martin in debased ventures or marshaling the children's FX to run on time, Levy seems to show a commitment to nothing more than paying the bills. It would take only a modicum of effort to make these products even a little less insulting, but I suppose that's asking too much. In revenge, here's Levy as child actor, in the apparently indelible "Zombie Nightmare."
Dennis Dugan ("Problem Child," Adam Sandler's career)
Hacks breed hacks: Levant inherited "Problem Child 2" from Dugan, who similarly broke into features with the first installment. But — like Levy — Dugan was also an actor. Before directing the Adam Sandler landmarks "Happy Gilmore," "Big Daddy," "I Now Pronounce You Chuck & Larry" and "You Don't Mess With The Zohan" (not to mention "Beverly Hills Ninja") — Dugan did his time in '70s and '80s bit parts, mostly on TV. A rare film part was in 1976's "Norman… Is That You?," in which Redd Foxx discovers his son is probably gay and definitely living with the ultimate fruitcake in San Francisco. Dugan is that fruitcake, entrusted — in the words of Roger Ebert's contemporary review — with little more than "[swishing] around whipping up Prune Flambe Surprise and packing his hostess gowns." No wonder "directing" Adam Sandler seemed like a better option.
Peter Segal ("Tommy Boy," "Anger Management," "Get Smart")
Peter Segal seems to have the unique ability to turning even the most promising casts into garbage — Steve Carrell, Alan Arkin and Dwayne Johnson were recent casualties in "Get Smart," and somehow Jack Nicholson held his nose long enough for a paycheck on the uninspired "Anger Management." So many improvisers, so few results? It's awfully dispiriting. Here's Segal's opening sequence from "Naked 33 1/3: The Final Insult," which is kind of funny as a sloppy parody of "The Untouchables" (I wonder if Segal knows Brian De Palma was taking on "Battleship Potemkin" in his stairway shootout) and as a '90s compendium of hot topics: disgruntled postal workers, illegal Mexican gardeners and — hot damn — a clearly Islamic terrorist being shot just as a gag.
Donald Petrie ("Mystic Pizza," "Miss Congeniality," "Welcome To Mooseport")
Another workaday actor turned director, Petrie never got the kind of name-billing Dugan did. As for his directorial skills — let's turn to Scott Foundas' appraisal of the recently failed Nia Vardalos comeback vehicle "My Life In Ruins," which he described as directed "in a manner of speaking." Subsequent failures include Gene Hackman's last-ever thespian turn in "Welcome To Moosewood," the Christopher Lloyd-starring reboot of "My Favorite Martian" and the uber-drecky "Miss Congeniality." Fortunately, his reputation lies safe in the hall of chick flicks with "Mystic Pizza." To counterbalance that, here's a trailer for a particularly disreputable-looking movie he had a small role in: "H.O.T.S.," aka "T&A Academy."
Raja Gosnell ("Scooby Doo," "Beverly Hills Chihuahua," "Big Momma's House")
Gosnell came up the hard way, editing his way from "Teen Wolf Too" to the relative heights of the worst parts of the John Hughes factory — "Only The Lonely," "Home Alone 2," 'Mrs. Doubtfire" — before getting to forge his own bold path starting with "Home Alone 3." I remember seeing the trailer for "Beverly Hills Chihuahua" and thinking "Huh, CGI talking dogs. Must be a Raja Gosnell movie." And, no joke, the director of the first two live-action "Scooby Doo" movies (see how it all comes back around?) turned out to be the director of "Chihuahua" indeed. Here's one of the more painful looking assignments from his editorial years, a buddy comedy with Christopher Lloyd and Gregory Hines:
Brian Robbins ("Ready To Rumble," "Norbit," "Meet Dave")
Robbins actually made it through 114 episodes of "Head of the Class," the '80s ABC sitcom about a class for gifted students, of which he played one, alongside future Mike Tyson bride Robin Givens. After a stint hosting a "Pictionary" game show, Robbins turned to a second career in directing, with people to defend virtually every part of his career. Kenan and Kel enthusiasts love "Good Burger," ex-high-school football players love "Varsity Blues," and author/New Yorker critic Richard Brody is an advocate for the much-reviled "Norbit," though he concedes Robbins "doesn't do much more than stage-manage the riotous proceedings." Here's a trailer for "C.H.U.D. II: Bud the Chud," which — as it proudly announces — stars "Brian Robbins from 'Head of the Class,' Gerrit Graham of 'Police Academy VI,' Robert Vaughn, Bianca Jagger, Larry Linville of 'M*A*S*H,' and many other popular stars."
[Photo: "The Spy Next Door," Lionsgate, 2010]