The film critic versus the news anchor.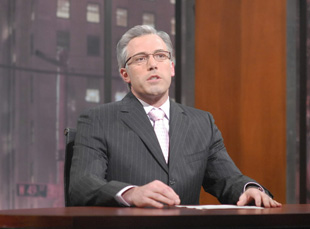 Posted by Vadim Rizov on
New York Film Critics Circle chairman and everyone's favorite contrarian Armond White is no stranger to feuds, but his latest deserves special mention. Yes, we've now all lived long enough to see a spat between White and MSNBC's Keith Olbermann, which seems as even a match as ever was.
The New York Film Critics Circle awards took place Monday night, and all press eyes were, natch, on George Clooney, in attendance with current girlfriend Elisabetta Canalis. Clooney gave an excellent acceptance speech for his Best Actor honor (for both "Up In The Air" and "Fantastic Mr. Fox") which eventually descended into a long, richly deserved harangue against Rex Reed (""It is a high-water mark for me tonight, because of all the films that I have starred in, this is the first film that your colleague, Rex Reed, hasn't said that I suck. Where is he?")
Funny, but not as awesome as Jeffrey Wells' scoop Hollywood Elsewhere. Wells reports that Olbermann was originally slated to present the Best Original Screenplay award for "In The Loop" (a decidedly left-wing satire totally up Olbermann's alley), only to have Chairman White decide all awards should be presented by past honorees. Olbermann was out and offended, though he refrained from deeming White his "Worst Person In The World" for the day.
Given White's neocon leanings and Olbermann's being essentially a caricature of the opposite end of the political scale, it's hard not to speculate that White simply didn't want Olbermann at his show. And even if that's totally ill-informed, it's still fun to dream of a world in which Armond briefly breaks into the cast of characters kicked around by the political blogosphere, his profile elevated by this dust-up.
[Photo: Ben Affleck as "Keith Olbermann" on "Saturday Night Live," Nov. 1 2008, NBC Universal Television]