Neil Gaiman, fantasy champion.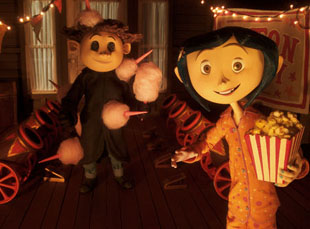 Posted by Vadim Rizov on
The New Yorker goes long on Neil Gaiman this week, more or less approved by the man himself. Like pretty much all New Yorker profiles, it's compulsively readable even when it's not digging into the dirt. That's the case with Dana Goodyear's effort, which prefers to skim entertainingly over the juicier personal stuff (a childhood in Scientology, a relationship with ex-Dresden Dolls frontwoman Amanda Palmer) and hit the highlights rather than delving into analysis.
Certainly, if you were reading it without knowing who Gaiman is, you wouldn't understand that Gaiman is, in some ways, the only hope for fantasy filmmaking right now. I'm one of those unreconstructed types who likes my books to be unattractively laid-out in dense paragraphs, and I like my fiction mostly mundane. But on-screen, Gaiman's work is the real thing: inventive, spry, and visually resourceful.
His works are also getting adapted for the big screen frequently of late, which helps; Gaiman's career goes back to the '80s, but only recently has he started to dominate. 2005's underseen "MirrorMask" created a whole plausible world for $4 million, with the help of gauzy CGI that was more conceptual and motif-based than detailed and dazzling. There was the dismal "Stardust," which Gaiman didn't write, and the intriguing "Beowulf," which he co-wrote. And finally, there was the deserved success of last year's "Coraline" — which he didn't adapt himself, but was perfectly happy to promote with an enjoyably creepy monologue about buttons. It's that last credit that stands out; the tough-sell-ish "Coraline" — creepy enough as an adult viewer, downright terrifying for kids — made back more than its $60 million budget domestically, and quietly resurrected Henry Selick's career after the debacle of "Monkeybone."
"Coraline" wasn't just the most successful fantasy film in years (critically and commercially), but gave Gaiman the chance to be something of a brand name in a genre known mostly for the odd movie about dragons every few years ("Reign of Fire," "Dragonheart," "Dragonslayer" and so on), the collected cinema of Terry Gilliam and some stragglers here and there. That's a shame: I won't read fantasy — the archetypal Joseph Campbell crap bugs me, with the hero cycle combined with the vaguely self-congratulatory insinuation that appreciating fantasy per se makes you your own hero in a mundane world — but watching really inventive fantasy is about as fun as it gets.
What's interesting about "MirrorMask" and "Coraline" — and perversely gratifying — is the way they punish their (respectively) adolescent and pre-pubescent heroines for dreaming selfishly. They're essentially the same movie: a young girl resents her parents, dreams of an alternate world, endangers her parents in the process and has to win in the world she's wished for and terminate it to save everything. Unlike Gilliam's self-congratulatory dreamers and visionaries, Gaiman makes fantasy worlds that demands a price for entering; it's got a bite to it that's unusual.
Now, it's safe to assume Gaiman has at least a little clout and has — if he plays his cards right and has the interest — the opportunity to smuggle a little pure visual fantasy and inventiveness back on-screen. "Coraline" was the most inventive and surprising $60 million I've seen spent in a while; here's hoping for more.
[Photos: "Coraline," Focus Features, 2009; "MirrorMask," Sony Pictures Home Entertainment, 2005.]