Music for a Martin Luther King film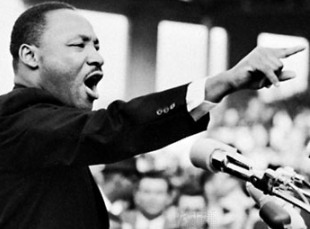 Posted by Brandon Kim on
Steven Spielberg's DreamWorks has a Martin Luther King Jr. biopic planned for sometime in 2011. It will be the first film about the legendary civil rights leader and all-American bad ass that has acquired the rights to use King's intellectual property.
"We are all honored that the King Estate is giving us the opportunity to tell the story of these defining, historic events. It is our hope that the creative power of film and the impact of Dr. King's life can combine to present a story of undeniable power that we can all be proud of," Spielberg said of the deal to Variety a while back.
Steven Spielberg will produce with director, writer and cast not yet known. One would think the film's almost a sure thing at the box office, but It would take a deft hand to deliver a piece that's powerful without leaning on overly sentimental cliches. With such a figure as King, there's also the challenge of telling the story when it's one that everyone already knows.
And who could play him? Don't say Will Smith – much as he is my guy. Terrence Howard must be on a short list. Obvious choice, Denzel Washington could belt it out, but MLK was only 39 when he died and D dubs is pushing into his mid-fifties.
Any picture about MLK should have some incredibly huge gospel jams. I thought today would be a good time to drop a couple of them along with a little doo wop and soul that anyone living in the 1960's, and certainly Dr. King, would well know.
Here you go Mr. Spielberg, if you need a music supe, give me a call. Top five songs for DreamWorks' Martin Luther King Jr. biopic:
1."Burying Ground" – Sensational Nightingales (1956)

2."Lord I've Tried" – The Swan Silvertones (1947)

3."Maybe" – The Chantels (1958)

4."Summertime/Motherless Child" – Mahalia Jackson (1961)

5."A Change Is Gonna Come" – Sam Cooke (1963)

None of these are played out, or remotely overused except "A Change Is Gonna Come," but I think it's okay under the circumstances.