No one out-cougars Mrs. Robinson.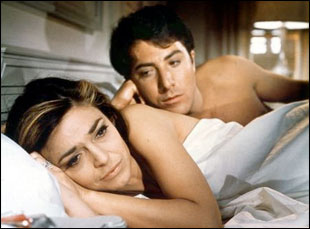 Posted by Vadim Rizov on
People often forget that, adjusted for inflation, "The Graduate" is the 18th highest grossing film of all time in America, outranking any installment of "Lord of the Rings" or "Pirates of the Caribbean." It's not just Mike Nichols' best movie by a long shot or a still-fresh contact high-inducing satire; it was maybe the artiest blockbuster of all time.
And it was, perhaps more than anything, best represented by a song: "Mrs. Robinson," the Simon & Garfunkel elegy for Anne Bancroft's innocence-robbing adultress. The track's persisted long after "The Graduate" shrunk from cultural landmark status, long enough to make a meaningful punchline in "American Pie."
So it was inevitable that the UK's Iris Robertson scandal, duly dubbed "Irisgate," in which it was revealed that the wife of Northern Ireland's First Minister Peter Robinson had an affair with and loaned sizable amounts of money to a 19-year-old boy, would inspire mischievous Belfast radio audiences to repeatedly call in and request "Mrs. Robinson."
The big line itself — "Here's to you, Mrs. Robinson" — has been a headline constant, drawing the disapproval of the Guardian's Peter Bradshaw, who notes "the contrast between this grim and tragic story and the quaint romance of 'The Graduate' couldn't be plainer."
The details are different indeed, and the Iris Robinson story is plenty compelling on its own, a weird mix of sex, age gaps (59-19), power relations, business misconduct and political disgrace, culminating in a suicide attempt and a possible change in political power rankings. (You should read the links; summarizing it here would be a doorstop.)
How odd that "The Graduate" (and "Mrs. Robinson") have become the "Madame Bovary" of 20th century adultery, enduring as the gold standard of pop cultural references to May-December entanglements — something you'd think would've been supplanted by now, but that hasn't. Not even by, uh, "Ali: Fear Eats The Soul"? Or that one episode of "The Drew Carey Show" where "Drew Dates A Senior"? Or, er, "The Cougar"?
Okay, fair enough.
[Photos: "The Graduate," Embassy Pictures Corporation, 1967]