"Mother and Child" is "Crash"-tastic.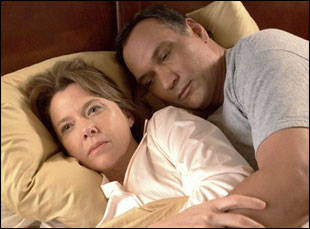 Posted by Matt Singer on
Reviewed at the 2010 Sundance Film Festival.
Friggin' Paul Haggis.
Love or hate Haggis' 2004 Best Picture winner "Crash," we can all agree on one thing: in the wake of its success, we all endured far too many knockoff humanist ensemble issue films. Just when it seemed like the end of that trend was finally in sight, here comes Sundance 2010 selection "Mother and Child," yet another movie about a bunch of people with interconnected lives and a really important topic on their minds, in this case, adoption and single motherhood. These movies in the "Crash" mold are about two things: big ethical points and big acting, to the exclusion of just about everything else. The real shame here is that one of the stories by writer/director Rodrigo Garcia is actually pretty strong, far stronger than the others. But its impact is dulled by the film's format, which repeatedly pushes it aside to pick up other, lesser plotlines and characters. It's like trying to watch a really good television show with someone who insists on flipping to another channel during every commercial break.
The winner in the bunch is Naomi Watts who, in a terrific performance, plays Elizabeth, a ferociously competitive careerist starting a new job at a law firm run by Paul (Samuel L. Jackson). For Watts, Elizabeth offers an opportunity to showcase an intensity she hasn't tapped into onscreen in a while. It's nice to see it back. When she tells Paul in her job interview that many women find her threatening, we can see why; she is an intimidating, formidable presence. Elizabeth reveals in the same interview that she was given up for adoption by her mother when she was a newborn. She never met the woman and doesn't care to; she isn't close with her adopted parents and she doesn't intend to marry. "I'm not in the sisterhood," she says. "I'm my own person."
Soon, Paul and Elizabeth will begin an affair in a sex scene that ranks amongst the best in any recent movie, not because it is particularly sexy but because of the way it subtly reveals things about Elizabeth, particularly her issues with control and intimacy. Garcia frames the characters so that they almost never share the screen at the same time, creating a visible distance between them even while they're having sex. Watts' performance in the scene, and the entire movie, is sure to garner her some well-deserved attention.
But a problem with a performance this good in a film like this is we have to share it with others that, even if they aren't necessarily bad, just aren't as interesting. Annette Bening plays Karen, the woman who gave Elizabeth up when she was just 14 years old, and has lived with the guilt and pain of that decision for her entire life. Kerry Washington plays Lucy, a woman who can't have a child of her own trying to find a baby to adopt. And yes, while it is sort of interesting to compare the three women – Karen and Elizabeth's similar reactions to men even though they've never met; the black and white design that dominates the cold Elizabeth's life contrasts sharply with the colorful, flowery clothes and home furnishings of the warmer Lucy – those scenes are never more interesting than simply following Elizabeth. At a certain point, Garcia goes so overboard with wild plot twists in all the plot threads (people dying, people radically changing deeply held beliefs) that even Watts' storyline suffers.
By the time Elizabeth is receiving counseling from a (wait for it) blind-but-wise teenager, the characters' are no longer making decisions for themselves. They're totally at the mercy of a screenwriter manipulating their lives for maximum shock value and poignancy. One particularly egregious deus ex machina involves a letter that must be lost at the perfect them, then rediscovered at the perfect time, in order to engineer the resolution the screenplay demands. To Garcia's credit, he has created some rich, fascinating characters, particularly Watts' and Jackson's. But why can't he let them breathe for even one scene without a crisis or a breakdown or at least than a half dozen references to babies, pregnancy and adoption? At times, it seems like he would rather make a point than make a movie.
"Mother and Child" will be released by Sony Pictures Classics on May 7th.