Morphing, "Avatar" and how cutting-edge effects eventually become everyday.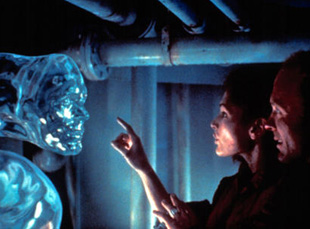 Posted by Vadim Rizov on
We've now moved past the first stage of "Avatar" — doubt — and on to the box office record breaking, the hysteria, the reverence and every kind of mass-cultural reaction. So, naturally, we'd also like to know what's next.
In the New York Times, Michael Cieply roots around for this very thing. "I can't, offhand, see another half-billion-dollar production," Sony sales and marketing VP Alec Shapiro shrugs. He suggests the movie will be profitable but one-of-a-kind for the time being. It's just too expensive to try to replicate an immersive, photo-realistic 3D environment without Cameron's action savvy to back up the gamble, even behind his very own camera.
Cameron's a brand name, which seems to be what drove the initial rush to the theaters rather than the much-vaunted technological breakthroughs themselves. But it's safe to say that since Cameron invented and test-drove the technology, it'll only go down in price in the future. It'll take a while for Cameron's effects to become cheap(er) and ubiquitous, but it'll happen.
For a comparable example of Cameron's tech innovations (on a much smaller scale), look at morphing. It had been around in various forms before 1989's "The Abyss" (like when George Lucas conjured up Patricia Hayes out of a succession of animals), when Cameron's team became the first in the movies to graft a real human face onto a soft surface.
For "Terminator 2," Cameron took morphing further, turning Robert Patrick into liquid steel, or whoever he was impersonating, or a mixture of both. But eventually the effect became cheap enough to harness for TV commercials, and went from a stunner into banality. Take this Schick commercial from 1993, a self-consciously race-balanced spot with a morphing twist:
And in this highly enjoyable Miller Lite ad from 1991, they recap the last 30 years of popular culture and clothing — tie-dyes to bell-bottoms to punk to The Future — through the magic of what was once cutting-edge cinematic technology:
[Photo: "The Abyss," 20th Century Fox, 1989]