Inside Michael Fassbender's Fish Tank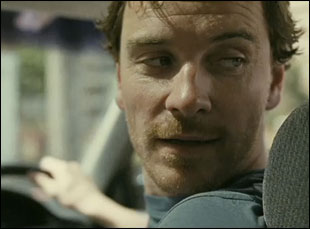 Posted by Aaron Hillis on
Proving to be one of the hottest properties on the world cinema stage, German-born Irish actor Michael Fassbender has quickly filled an impressive résumé of challenging and artistic work. In 2009 alone, he endured a severe crash diet (yet devoured critical praise and awards) as IRA prisoner on strike Bobby Sands in director Steve McQueen's "Hunger," faced down Nazis as the first known undercover film critic in Quentin Tarantino's "Inglourious Basterds" and collaborated with Gallic auteur François Ozon in the Edwardian epic "Angel." Not too shabby for one of the greased-up Spartans from "300," eh?
In "Red Road" director Andrea Arnold's magnificent second feature "Fish Tank," Fassbender again gives a crackling performance in an uneasy role. Young newcomer Katie Jarvis stars as Mia, a feisty 15-year-old who lives with her promiscuous mother and cruel little sister in a British housing project. When her mum brings home handsome new boyfriend Connor (Fassbender), Mia undergoes a sexual awakening, if in part because this much older man is a positive influence who encourages her secret passion for hip-hop dancing. Temptation lingers between Mia and Connor, but "Fish Tank" is not a story of a calculated predator (such as in "An Education"), nor are its lower-class heartbreaks insincere (ahem, "Precious"), which makes it the first early contender for 2010 year-end polls. I met up with Fassbender at the Soho Grand Hotel lounge in lower Manhattan, where we discussed happy accidents, filming uncomfortable scenes, and the joys of both champagne and cooking.
The relationship between Connor and Mia got me wondering, have you ever had a May-December fling?
What do you mean, have I had sex with a minor? [laughs]
No, no, I just mean with someone much older or younger, but definitely of legal consent.
I've had a few of those, for sure. But that's love, isn't it? It doesn't make sense, but you're just following blindly. Nothing that would compare with what Connor is doing in "Fish Tank," no.
I read that you weren't allowed to look at the script before you agreed to take the role. What inspired your leap of faith with Andrea Arnold?
It was on the basis of seeing "Red Road." What always interested me about Andrea was the ambiguity she has in her characters. You're not being spoon-fed as an audience — like, here's your bad guy and your good guy. They do good and bad things, and that goes for Connor, for sure. He brings a lot of nourishment into Mia's life. He's the only one who gives her some belief in herself, actually tells her to follow her dreams, that she has talent and should follow it. That's something she's not getting from anyone else — certainly not her mother.
Unfortunately, he crosses the line later on in the film, breaches her trust and takes advantage of her. Connor's not this pedophile, he's just a regular, ordinary guy. I think it was important for Andrea to portray him that way, because then you have the possibility of doing something like that. We have it in us to do these things — then it's a little more uncomfortable for an audience. They leave the theater scratching their heads for a while, which is what you want.
[Fassbender is handed a glass of champagne.]
I like how you roll, a little bubbly in the afternoon.
Thanks. My mum told me that one glass of champagne apparently increases brain activity. I don't know what happens after two. [laughs]
The film and performances are so naturalistic, making the slow-burning sexual tension between Connor and Mia all the more palpable. Was it ever uncomfortable to film some of those scenes with Katie Jarvis, especially since she isn't a trained actor?
It was weird for me, absolutely. It was up to me, I think, to make sure that she was as relaxed as she could be. I did that by making an ass of myself, telling jokes, trying to keep the atmosphere as light as possible. That's all you can really do. To her credit, we just got on with it. You try to get it right so you don't have to do too many takes. She's got a real natural gift, as you can see in the film, bringing real honesty to her acting. She's like a laser beam, just straight through to the truth, no frills or flower added. It's very raw and pure. All I could do was try to keep up, you know? [laughs] She did feel a bit vulnerable, which is good because it adds to the scene, but you try to be as funny as one can.
How would you describe Andrea Arnold's working style compared to some of the other filmmakers you've recently collaborated with, like McQueen, Tarantino and Ozon?
Hmm. It's hard because they're all very individual, strong personalities. Andrea likes to create some form of chaos. Not that it's chaos on set, but she likes to find the mistakes during the day, the things that are unexpected. She's very interested in capturing, like you said earlier, real moments. So in terms of, like, doing a scene in the kitchen, when I meet Mia for the first time, we'll do it scripted. Then she'll go, "Okay, now do the scene, and say whatever you want," and we'll do it without any dialogue. She's got a real feel for the moment-to-moment life of a scene. She's also very good at creating an intimate, safe environment where you can really feel free to explore and create. I really didn't know what was going to turn out, what I was doing with Connor. I guess she works well in that way, destabilizing the situation and seeing what happens.