Matthew Broderick's Wonderful World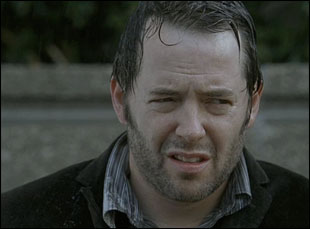 Posted by Aaron Hillis on
Still boyishly handsome at 47, actor Matthew Broderick ("The Producers," "Election," and, lest anyone forget, "Ferris Bueller's Day Off") continues to split his workload between stage and screen. In the last few years, however, his film career has been more low-key, from voiceover work ("Bee Movie," "The Tale of Despereaux") to indies like "Then She Found Me," "Diminished Capacity" and "Finding Amanda." Could it be that "Inspector Gadget" himself no longer finds Hollywood roles as satisfying to the soul?
His next stop in Indiewood is writer-director Josh Goldin's bittersweet debut "Wonderful World," which premiered at last year's Tribeca Film Festival. Broderick stars as bitter misanthrope Ben Singer, a failed children's folk singer and divorced dad who only seems to find solace in smoking too much pot and playing chess with his Senegalese roomie Ibou (Michael Kenneth Williams). After Ibou is hospitalized, Ben begins a heartfelt but frivolous lawsuit against the city for "depraved indifference," and begins his ascent from rock bottom with the help of Ibou's sister Khadi (Sanaa Lathan). Broderick called me to chat about pessimism, marijuana, still being Ferris Bueller and his 2010 resolutions.
Ben's glass isn't just half-empty; the water itself is probably poisoned in his mind. What are you pessimistic about in these turbulent times?
Well, that's a big question. I can be pessimistic about show business. As soon as I don't have a job, I think I won't work again. I'm definitely one of those. I don't know if I'm all that pessimistic, but I am about show business. I think things aren't going to work out right: "Oh, this play won't work. This movie won't be good." I tend to do that too much, but I fight it. I don't like to bring others into my world of negativity.
Josh Goldin claims that the character was inspired by his own cynical demeanor. What's the reality of that confession, and what led you to trust and work with this first-time director?
We've been friends for, like, 20 years. I don't see him as particularly cynical, but he says he's from a long line of that. His grandmother was 90, and basically said before she died, "This has really been a terrible century." He's very funny and charming, fun to hang out with, so I'm always a little surprised when he says how cynical he is. He's opinionated, and doesn't like a lot of things. But his demeanor is cheerful, until something bad happens, and then he thinks that was of course going to happen.
The funniest people I've ever met in my life have mostly been cynical.
You're supposed to see through the fake stuff to be funny, I guess. I don't know, "cynical" makes me think like he's pretending things are worse than they are.
Have you ever had career aspirations that flat-out failed, either because of bad timing, or it simply wasn't your forte?
Sure. I've had parts that I read for and wanted and didn't get. I've certainly had disappointments, so I can relate to that. It's never gotten to the point where I just dropped out the way Ben does. Something good has always come about, but I can see that feeling. It's not just his professional life. His divorce and the trouble with his daughter — there are a lot of grim things in his world, including his personal outlook. You don't know how much he's bringing on himself, or if it's just circumstances.
Ben imposes that gloomy outlook on his daughter, which makes me curious if there are any beliefs or truths you have reservations about telling your kids while they're still young?
My son is right at an age when you start to realize, "Wow, he's learning how to deal with things by the way I'm doing it." I am the example for him, and it's hard. I'll lose my temper with the dog, and he says, "Why were you so angry at the dog?" I wasn't so angry. You just start having to be very careful. They really suck it in from what you do. The arguments you might have in the family, they're going to remember all that forever. I wish I had a solution as to what to avoid with children, and what not to. I can relate to Ben. It's hard to know what kind of worldview to give a kid.