Martin Campbell's short memory about "Edge of Darkness."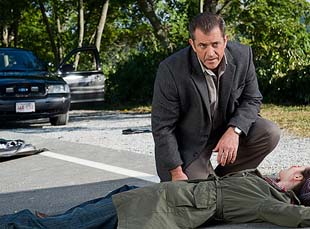 Posted by Vadim Rizov on
The number of Americans who know that "Edge of Darkness" — this Friday's Mel Gibson-vs. everyone conspiracy actionfest — is actually a remake of a beloved landmark BBC miniseries is very small; almost no one I've talked to who wasn't working press was aware of it (not even some of the latter knew; then again, I'm one of those pesky Anglophiles). Fewer still, I imagine, will realize that director Martin Campbell directed the original as well, which is some kind of benchmark. There's a few cases of directors tackling their own work again, but generally within the same medium (Hitchcock's two versions of "The Man Who Knew Too Much," the Dutch original and American remake of "The Vanishing"). But this is a whole other animal: the compression of five hours into two, 25 years later. As far as I know, there's no precedent for it.
And apparently, it's been long enough ago for Campbell to forget a few things about the original. In an interview with CanMag, Campbell said that a scene in which Gibson puts shaving cream on his young daughter "was entirely Mel's idea […] a scene that Mel improvised with the little girl." Well no, it wasn't: it's one of the very few scenes the remake takes intact from the original, so I guess Gibson remembers the original better than its director.
Now, I know I'm being petty asking Campbell to recall the exactitudes of a production from 25 years ago, but there are a few things he's wrong about, and they're kind of crucial. Speaking of his style on the original to ComingSoon.net's Edward Douglas, he notes: "I hope I shot the film fairly simply. I didn't try to do anything pretentious with the way it was shot." Well, he didn't. 1985's "Darkness" won't be winning awards for convoluted mise-en-scène anytime soon, but it's far from straightforward. In moments of chasing and running, Campbell tends to put some kind of major obstruction in the foreground to block off space; you can see the directions people are running in and in what order, but you can't really see where they're going or, sometimes, who's pursuing who. He does stuff like this over and over for four episodes, visualizing the confusion of a script that's already plenty confusing just in outline (until suddenly, in episode five, we've put together pretty much all the pieces and it's time to get on with the chases and speechifying).
The other thing's a little odder. The original version is nothing if not a creature of its time, full of era-specific Thatcherite politics and a very real concern with nuclear weapons. But the "Edge of Darkness" remake has generic politics: without spoilers, what it comes up with could be plausible only to your most unshakeable 9/11-truther. Which is fine: the politics here are a pretext rather than a raison d'être. But Campbell kicks it up a notch in an interview with The Guardian: "None of that mid-'80s stuff is scary anymore. It's like everyone has plutonium in their back garden now." Again please? The fact that plutonium isn't in the hands of potentially mendacious industrialists but in everyone's is less scary…how?
Campbell is probably perfectly sincere when he claims "I liked the emotional story, from the original, of Craven losing his daughter. That side of the story is what I loved. The political story didn't really interest me anymore." That's his right. But in a remake that, quite frankly, could use a lot more Gibson-on-anyone violence and a lot less in the way of generic father-daughter bits, it's a bit inexplicable. And it's forgetful of what Campbell brought to the original series: not just competently helming a fascinating teleplay that leveled the personal and political (not in the usual facile sense either), but complementing it visually.
[Photos: "Edge of Darkness," Warner Bros., 2010; "Edge of Darkness," BBC, 1985.]