Blitz hits the jackpot with "Lucky."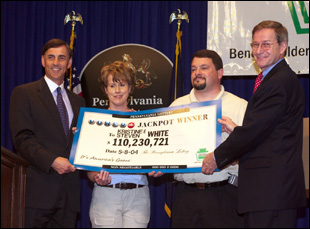 Posted by Bilge Ebiri on
Reviewed at the 2010 Sundance Film Festival.
Jeffrey Blitz walks a deceptively fine line in "Lucky," a film that looks at the effects of winning the lottery on a variety of individuals and families. It would be easy – too easy — to screw this up. The lottery, with its false hope and promise of randomly granted affluence, makes an ideal bête noire for any filmmaker or artist extolling the value of hard work and the evils of capitalism; the temptation is probably too great to just show us the oft-repeated fact that a large percentage of these winners wind up losing all their money. Indeed, one fears the worst when the film's early scenes show us a working-class African-American woman from Delaware obsessed with the lottery. As Blitz's camera follows her buying tickets, spending around $100 a day, and dreaming about all the things she'll do once she hits the jackpot, it's hard not to think we're about to be scolded again.
Luckily, Blitz isn't too interested in preaching to us. He employs the same cross-sectional approach he employed in "Spellbound," following people from all walks of life whose lives were changed by the lottery, but this time there's little common purpose. They've all won already. What fascinates the filmmaker are the divergent paths they took after their victories. One Vietnamese immigrant from Lincoln, Neb., one of eight winners of a record-breaking, $300 million-plus jackpot, uses his newfound money to build a series of large homes right next to one another and bring his family closer to home; he then builds a massive mansion in Vietnam, so 50 or so members of his family back there can live together. A New Jersey couple, the sole winners of a staggering $110 million, give money to neighbors in need and a series of charities, before moving off to Sarasota, Fla. and buying one of the chintziest houses I've ever seen, including a pool with the letters "PB" (for Powerball) painted on the bottom. One winner — a troubled, suicidal loner who split his last $3 on food for his nine cats and a Powerball ticket — gets cleaned up, buys a nice suit and a big house — then realizes he wants to go back to living a simple life and checks into a motel.
There is a bit of disconnect here: "Lucky" is fascinating, but one might wonder what it's actually about. There's no real overarching philosophy to the director's approach. He seems content to sit back and revel in the cosmic joke that seems to be at play whenever someone hits a jackpot. One subject, a brilliant Berkeley mathematician, fully aware of the insane odds against him, played the same numbers for years and eventually won $22 million: After using some of the money to finance a chair at his university in honor of his mentor, he found himself divorced, lonely, and looking for purpose in life. Another man, a local hero who saved a child from a burning building, won $16 million, and promptly found his life plunged into chaos when his siblings tried multiple times to try and kill him for the money; Blitz finds him destitute, sick, and living in the backroom of an auto body shop.
Extreme environments often reveal deep personality traits, and one on-camera interviewee likens winning the lottery to "throwing Miracle-Gro on all your character flaws." "Lucky" effectively uses these life-changing events to explore its diverse characters. The lottery winds up being incidental to the tale: Blitz might as well be following a series of plane crash survivors. In the end, much like "Spellbound," this is a film about the vast tapestry of human experience.
"Lucky" does not yet have U.S. distribution.
[Photos: "Lucky," Big Beach Films, 2010]