James Cameron's symbolically flowing locks.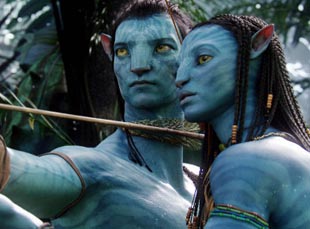 Posted by Vadim Rizov on
When James Cameron showed up at the Golden Globes with hair that billowed in all directions, looking for all the world like a slimmed-down Charles Laughton, it was tempting to speculate about a life that involved so much money you'd never have to cut your hair ever again (who's going to tell him anything about it?). With that in my head, I finally, finally saw "Avatar."
That hair! No one told me that the way the Na'vi get in tune with their dragons, which Wikipedia tells me are actually called "Mountain Banshees," is by taking their ponytails and shoving them into an orifice in the creature's head-region, creating a lifelong bond. It's oddly Cronenbergian.
Now, I'm not a total idiot. I realize the Na'vi have ponytails for the same reason Wes Studi is cast as the leader of the Na'vi — they're Native American stand-ins. But indulge me for a second — in most Cameron movies, the characters have cropped hair. That's how Arnold rolls, of course, and Sigourney Weaver had a frizzy-perm type thing in "Aliens" that still stayed out of her way as she blasted guns. And the coifs in "Titanic" are just period-appropriate.
There are, however, two cases of Cameron characters having symbolic hair, and I'm not even joking now. In "Avatar," the Na'vi's flowing locks make them the Indians versus the mercenaries' big bad cowboys, but they also make them literally connected to the flora and fauna of Pandora (they wrap their hair around the Tree of Souls to communicate with their ancestors). And that connects them with Mary Elizabeth Mastrantonio in "The Abyss," whose long hair is a tip-off to how soulful she is — and indeed, she turns out to be the person who understands best how to communicate with and protect the aliens. A good move, since otherwise they would destroy the earth.
Obviously this is a matter of visual shorthand — jarhead crew-cut versus earthy spirituality — but in a movie overstuffed with oversimplified archetypes and all kinds of general shorthand, this has to be the weirdest. How do the Pandorans keep their hair in such shiny shape anyway? Are they Pantene Pro-V people? Can we get a tie-in?
[Photos: "Avatar," 20th Century Fox; "The Abyss," 20th Century Fox, 1989]