The Always Drool-Worthy Laura Harring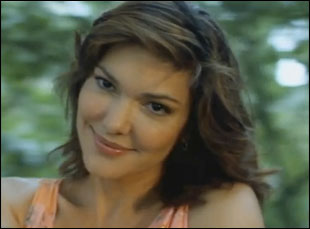 Posted by Aaron Hillis on
Now that the film critic intelligentsia has fully weighed in on the last decade, Mexican-American actress Laura Harring should (and does) feel proud to have played an intoxicating part in David Lynch's Möbius strip of a Hollyweird noir "Mulholland Dr.," pegged by the biggest polls as the Best Film of the '00s. As the mysterious amnesiac who stumbles into the life and arms of an aspiring actress (Naomi Watts) before nightmare logic fractures the narrative altogether, Harring received career-launching acclaim, which is not to dismiss her previous screen credits or having been the first Hispanic woman to be crowned Miss USA some years before. Anyone should be so lucky.
Harring can next be seen in writer-director Nancy Kissam's feature debut "Drool," a transgressive comedy (in the vein of John Waters) which screened at Slamdance and Outfest. Harring plays Anora, a Southern housewife and mother of two whose abusive, racist husband (Oded Fehr) is pushing her over the edge. With the arrival of new neighbor Imogene (Jill Marie Jones), a bubbly African-American beauty in whom Anora finds solace and inexplicable sexual attraction, both of their lives take a peculiar turn which includes domestic murder and an eye-opening road trip for the restructured family. I spoke with Harring by phone to discuss "Drool," her reflections on starring in the last decade's masterpiece, surviving a bullet wound to the head, and why she's big in Korea.
"Drool" is unusual in that it features at least three gay relationships, but at its heart is the story of this mistreated woman trying to find happiness, which plays out as tragicomedy. What's your take on the film, and how did you get involved with first-timer Kassam?
I just thought it was an interesting script — very funny, dark humor. I felt sorry for Anora, and when I feel such compassion for a character, I always feel like it's the right character to play. Nancy immediately saw that I could play Anora, and I think it came about a year later. It hadn't finished getting its financing, so it was a little miracle film. The filming conditions were difficult because of the humid August weather in Louisiana. There was no air conditioner on set, no quiet place to sit. But it's a very funny film. People have responded really favorably to it.
I don't need to tell a former Miss USA that she's a very beautiful woman. What do you get out of playing against preconceived notions in a frumpier role?
I feel fortunate that I'm able to play diverse roles. I don't think everybody in Hollywood gets the opportunity to do that. When I became an actor, my thing wasn't to become famous. It was to do exactly what I'm doing, which is not just playing "leading lady" but all kinds of characters: abused, abusive, repressed, outgoing. When I was little, I was told I was a chameleon, and I feel really fortunate that directors see me that way also.
Do you think there's enough progressiveness in the film industry in the way of great women's roles, or is it still as much of a struggle as it always has been?
It goes up and down like a roller coaster. There are openings where women are getting stronger roles, more stories focused on women. And then, for a couple years, you see mostly male-driven stories. But I do believe those windows of opportunity are there, they do open, and they're changing at a rapid rate. For me, it's hard to keep up with trends. I just go for the roles and movies that I feel I could add value to, or contribute to, that I feel I could portray.
In the film, your son is accidentally shot in the head and survives. You were about the same age when you survived a similar injury in a drive-by shooting. Was that element of the script a coincidence?
Total coincidence. I forget that part of my life all the time. When I go back to that, when I was 12 and got shot on the right side of my head with a .45, I remember everything being in slow motion — the guzzling of the blood in my head like a fountain, my mother pressing [on it], and hearing the blub-blub of the blood gurgling. What I remember the most is feeling a crazy sense of peace. I could hear my thoughts really loudly, and among those thoughts were, "This is it?" [laughs] I couldn't believe that that would be the end. When I survived that entire scenario about 24 hours later, and they stitched me up, the doctor said I was one of the full survivors of a .45. I was in a daze for a couple months.
It changed my life forever, because I really make an effort to experience everyday in the present, be grateful for everything that comes, and try not to resist too much — because we resist what's happening in us, whether it's good or bad, and you tend to suffer more. When I recall that memory, I feel very fortunate. I feel like I'm living more fully because I'm more in the present and less worried about the future or the past.
Wow. Well, we've just wrapped a decade, and several prominent critics' polls placed "Mulholland Dr." as the Best Film of the Oughts. I'd love to know what the film means to you both personally and professionally, and if you could reflect back on when this project was just a rejected TV pilot.