This year's SXSW is going to "Kick-Ass."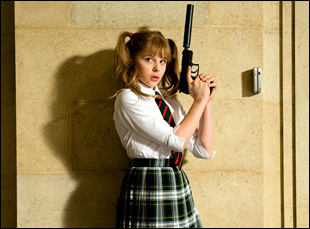 Posted by Stephen Saito on
Though it played to a few hundred geeks at Harry Knowles' "Butt-Numb-a-Thon" in December, "Kick-Ass" will make its official world premiere as the opening night film of this year's SXSW Film Festival in Austin, TX, which runs from March 12th through March 20th. If its Comic-Con reception last summer was any indication, the Lionsgate-acquired Matthew Vaughn flick about self-made superheroes should blow the roof off the Paramount Theater.
Aaron Johnson's Kick-Ass, Chloë Moretz's Hit-Girl and Nicolas Cage's Big Daddy will be joined by "Elektra Luxx," Sebastian Gutierrez's sequel to last year's SXSW fave "Women in Trouble," which continues the story of Carla Gugino's porn star who deals with an unwanted pregnancy with a little help from Timothy Olyphant, Malin Akerman and Justin Kirk, among others. "Quiet City" writer/director Aaron Katz will also return to SXSW with "Cold Weather," about a former forensic science major and detective novel fiend who leaves the pressures of Chicago for his hometown of Portland, Oregon to discover something is amiss.
On the documentary front, James Franco will present his new documentary "Saturday Night," an inside look at "Saturday Night Live," capturing the frenzy of the writing room, rehearsals and production challenges over the course of the week before it airs (presumably shot during one of Franco's two stints as guest host in the past couple years.) SXSW will also play host to Greg Olliver and Wes Orshoski's "Lemmy," a biopic of the legendary Motörhead lead singer Lemmy Kilmister with testimonies offered by members of Metallica, Billy Bob Thornton and Dave Grohl.
Festival audiences will also be the first to see "No Crossover: The Trial of Allen Iverson," a part of ESPN's "30 for 30" documentary series directed by "Hoop Dreams"' Steve James that documents the 1993 criminal case that divided the Virginia town of Hampton down racial lines when the future NBA superstar was charged for his involvement in a bowling alley brawl at the age of 17; and "Hubble 3D," a new film from IMAX that takes audiences inside the Hubble Space Telescope, with director Toni Myers, cinematographer James Neilhouse and astronaut Mike Massimino scheduled to be in attendance.
And for those who have been wading around in the Twitter pool for potential SXSW selections, expect an announcement soon from Universal, who has previously brought films like "Knocked Up" and "Drag Me to Hell" to Austin. Michael Moses, the studio's head of publicity recently twittered "Got something cool planned for SXSW" and after further prodding from HitFix's Drew McWeeny, implied that it could be "Get Him to the Greek," the pseudo-sequel to "Forgetting Sarah Marshall" that allows Russell Brand to reprise his role as aloof rock star Aldous Snow and co-stars Jonah Hill as a music label intern who must accommodate his every whim as Hill's Aaron Greenberg chauffeurs Snow across the country for an anniversary concert at L.A.'s Greek Theater.
[Photos: "Kick-Ass," Lionsgate, 2010; "Saturday Night Live," NBC/Broadway Video, 2008]