January, no longer the worst movie month of the year.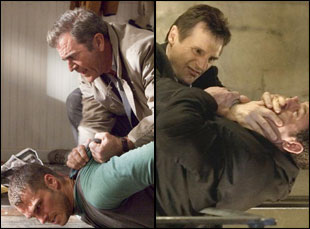 Posted by Vadim Rizov on
It's common knowledge that January is when — if you're not lucky enough to live in one of the relatively few American cities with an arthouse theater — there's nothing much to see, as studios use the month to unload their least promising, most half-baked goods.
But last year, the surprise one-two punch of "Taken" and "Paul Blart: Mall Cop" kicked the door open. Who's to say what unlikely, unexpected or just plain silly looking commercial juggernauts might emerge this month?
One of the weird things about this January is how much more expensive it looks compared to last year's slate. The January '09 releases were pretty cheap; genre stalwart "Underworld: Rise of the Lycans," for all its CGI beasts, came in at a trim $35 million, which was about the top on the expense front. This January comes loaded with "The Book of Eli," which cost $80 million, and the upcoming Mel-Gibson-kills-people extravaganza "Edge of Darkness," with a reported price tag of $60 million.
These aren't commercially undesirable movies. "The Book of Eli" made back nearly half its production budget in one weekend, and while how "Edge of Darkness" will fare remains to be seen — it's hard to tell how people currently feel about Gibson — it's still sure to have better production values (and explosions!) than the average January release. Lesson learned? You can open a movie that's not terrible in January and even make bank off of it, especially if you're catering to the underserved meat-and-potatoes action movie crowd.
For romcom fans, last year saw the little-loved "Bride Wars" and the dreadful "New In Town," and this year has the hardly more promising looking "Leap Year" and "When In Rome" — no change on that front. What are gone are the cheap horror joints. 2009 had the odd dybbuk-terrorizes-teens "The Unborn" and K-horror remake "The Uninvited." This year, those lusting for attacking loud noises will have to wait til the end of February for "The Crazies." Are anonymous casts of interchangeable beautiful people being slaughtered by CGI ghouls and lurking killers on the way out? We can only hope.
It's impossible to predict from January alone if 2010 will be another record-setting year of audiences going to the movies as they run away from the recession, but hey, can you still get more from less? Looks like it, for studios and audiences alike.
[Photos: "Edge of Darkness," Warner Bros., 2010 vs "Taken," Twentieth Century-Fox Film Corporation, 2009; "When in Rome," Walt Disney Studios Motion Pictures, 2010 vs "Bride Wars," Fox 2000 Pictures, 2009]