"Jack Goes Boating" goes nowhere in particular.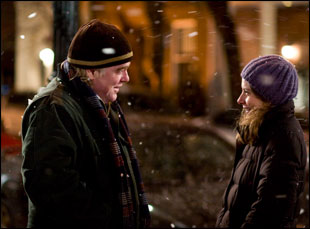 Posted by Alison Willmore on
Reviewed at the 2010 Sundance Film Festival.
Philip Seymour Hoffman loves theater. He got his start in it as an undergrad in NYU, he's an instrumental member of the LAB, he's appeared in Broadway revivals of "Long Day's Journey Into Night" and "True West." So it's not unexpected that he chose a play (by Bob Glaudini, who also wrote the screenplay) to adapt for his directorial debut. But I wish he hadn't. "Jack Goes Boating" is packed with all of the issues of the typical play-to-film transfer. Characters drift into monologues, long single location scenes have to be awkwardly broken up, we drop into the middle of conversations in a self-conscious way that would look a lot better if preceded by the lights coming up at the start of Act 2. Things that work well on the stage tend, on film, to look awfully, you know, stagey.
The performances are great — of course they are, it's Philip Seymour Hoffman and Amy Ryan as Jack and Connie, two working class New Yorkers who become engaged in a "Marty"ish romance. They're set up by their respective coworkers Clyde (John Ortiz) and Lucy (Daphne Rubin-Vega), whose marriage starts showing signs of strain as their friends tentatively move toward a relationship. Jack is an awkward reggae-loving limo driver who lives in his uncle's basement, Connie works at a mortuary and seems to have a few family and sexual issues to work through, and there's no further explanation for their social handicaps — which is nice. Their scenes together have a offbeat sweetness that's unfortunately not echoed in the rest of the film. While Clyde and Lucy oversee their progress like proud parents at a pee wee baseball game, their own fighting over past infidelities seems interminable, culminating in a disastrous dinner party that's meant to be the film's emotional climax but instead just seems the scene most weighed down by the theatrical nature of the material.
As a director, Hoffman shows a nice touch with his fellow actors. Stylistic gambles, like visualization exercises superimposed on the screen and wordless montages set to music, are less successful.
"Jack Goes Boating" will be released by Overture Films later in 2010.