Start the new year off with some iguana-cam.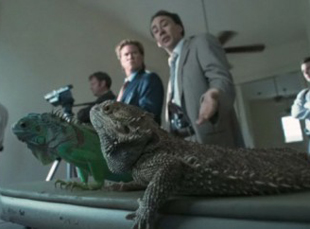 Posted by Vadim Rizov on
As we stand here, on the first day of our new decade, poised to try once more to make something out of ourselves…well, I'll let you handle the resolutions, because I don't believe in them. But allow me to help you clear your mind and enter a state of Zen acceptance.
Think back, if you will, to earlier last year, when the internet got very excited about the blatant insanity of the "Bad Lieutenant: Port of Call New Orleans" trailer, particularly Nicolas Cage asking what, precisely, those iguanas were doing on his coffee table, only to be informed there were no iguanas there.
The movie then veers off into the infamous "iguana-cam" sequence, where our point of view is first and foremost that of the iguana, along with various shots of cage and said reptile contemplating each other.
It was not actually the first prominent use of an inexplicable iguana I'd seen. That would be in the video for Trevor Rabin's 1989 single "Something To Hold On To." Rabin's best known these days as the composer of vapid action jams for "Armageddon," "National Treasure" and so on. But before that, Rabin was a member of Yes and, for a time, a failed solo artist.
Per Wikipedia, "The album's lead single, 'Something to Hold On To', earned a Grammy for Best Music Video and topped the AOR charts for two weeks. But despite some positive reviews, and extensive marketing from Elektra Records neither 'Something to Hold on To,' nor Rabin's anti-apartheid ballad 'Sorrow (Your Heart)' managed to crack the American Top-40 charts." Sad.
"Something To Hold On To" goes beyond your standard pop/hair metal video: guitars and amps are destroyed, sure, and there's a hot chick. But the production design appears misplaced from an "Alice in Wonderland" production, whose tacky wastelands would take forever to annotate properly. And then: enter iguana. I don't understand, but this is the pinnacle of stupid '80s ideas about what would be "arty" and "weird" (at least until Axl Rose rode with the dolphins). This'll clear your head. Enjoy:
[Photos: "The Bad Lieutenant: Port of Call New Orleans," First Look, 2009; "Something To Hold On To," Elektra Records; 1989]