"House": The Ultimate Midnight Movie?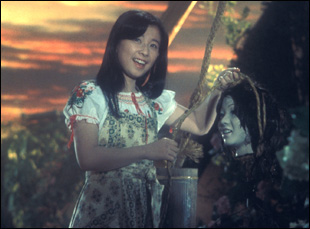 Posted by Matt Singer on
It took 33 years for Japanese director Nobuhiko Obayashi's film "House" to make its way to U.S. theaters, which is just as well.
This movie was ahead of its time in 1977, it's ahead of its time now, and will continue to be ahead of its time until some point in the future when humans communicate telepathically and sleep in nutrient-rich fluid baths. I would call it a new contender for the title of ultimate midnight movie, but midnight feels about three hours too early for something as deranged as "House." This phantasmagoric head-trip has to be one of the strangest and most surreal movies ever made.
It concerns the sometimes horrific, sometimes comedic, always psychedelic misadventures of a group of Japanese teenage girls. The gang is kind of an all-girl version of The Goonies: each is less a character than a type with her own gimmick and easily distinguishable physical features. There's Prof (Ai Matsubara) the brainy one with glasses; Melody (Eriko Tanaka) the musical one; Kung Fu (Miki Jinbo) who's got impressive martial arts moves, and so on. They all follow Gorgeous (Kimiko Ikegami) to her aunt's house for a summer vacation. Gorgeous' Aunt (Yoko Minamida) is happy to have the guests, even if they invited themselves for the visit, because she's actually an undead spirit who feasts on the souls of young unmarried females.
Soon after the girls arrive at the Aunt's house, they come under attack from supernatural assailants — cats, pianos, posters, kimonos, and all kinds of ghosts — all trying to eat them, and all operating purely on the level of dream logic. Trying to describe what happens next is genuinely like trying to describe an intense dream to someone else: it never comes out sounding as profound as it was in your head.
Mostly, it's just gibberish ("And then the light fixture ate her! Well, it ate half of her and then just her legs flew and kicked the evil cat poster! And then the poster ripped and it started spewing blood!"). While transcribing my notes from the section of the movie that does indeed involve killer light fixtures and dismembered legs attacking cat posters, I found this line: "This shit is bananas."
And indeed it is. The degree of trippiness shames every Corman and American International drug movie of the 1960s. The practical special effects that turn household objects into toothy demons look like something out mid-period Cronenberg. The wild spurts of gore pouring from cracks in walls suggest Sam Raimi might have found a dusty copy during his formative years and gotten inspired to make "The Evil Dead" and especially "Evil Dead II." But really, you can't explain what this movie is like, you simply have to experience it yourself.
The credit for this wackadoo experience belongs to Obayashi, a noted director of experimental shorts and television commercials who made the transition to feature films with "House." As a filmmaker, the man is either incapable or unwilling to allow even a single shot to pass without it containing something of visual interest. He couldn't let an early scene between Gorgeous and her father exist as a simple exchange of dialogue, so he staged the entire thing on a balcony and shot it through a wall of latticed glass in order to have the actors fracture and fragment as they talk and move, a nice warm-up for the later scenes that truly warp perception and reality.
At times near the end of the film, there's almost too much going on for the eye to register. For certain, there's animation, stop-motion effects, and things scratched or drawn directly onto the celluloid. As the girls face ever-mounting threats, the film builds to a visual crescendo that's both disorienting and exhilarating. At this point, Prof remarks: "I don't believe it! Can such things happen in this world?"
Anyone watching can share her incredulity. Movies don't normally work this way. But this one somehow does.
"House" opens in New York on January 15th and will tour the country through July. A full schedule can be found here.