Dustin Hoffman antagonizes Italy.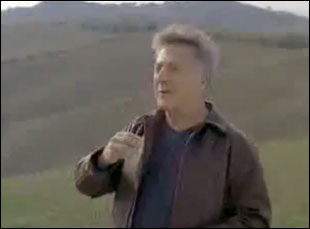 Posted by Vadim Rizov on
It's a time-honored practice for actors to go abroad to get paid to appear in ads they be much too ashamed to support at home. And so it was, presumably, that Dustin Hoffman came to Italy in search of some hard-earned euros, his cameo in "Little Fockers" having fallen apart.
Like Bill Murray in "Lost In Translation" — and numerous real people — Hoffman arrived in pursuit of a paycheck more honest than most: he was to recite Giacomo Leopardi's poem "The Infinite" and walk through Le Marche, the whole ordeal to be filmed as a tourist spot for the region.
"The Infinite" is a melancholy work, in which the speaker describes a beloved landscape that leads him to muse on mortality: "in this immensity / my thoughts are drowned, and shipwreck seems sweet / to me in this sea." This, perhaps, is a gloomy way to promote tourism — come to Le Marche to experience despair in the vastness! — but one that seems oddly appropriate, at least if all the stereotypes about voluble and melancholy Italians are true.
You can watch Hoffman in a rough cut of the ad on YouTube. It doesn't take an expert's ear to hear that he's butchering the language, causing considerable controversy in Italy. I'm not Italian, but I've seen their movies, and it's clear that the commercial is the sound of an exceptionally conscientious actor not pretending to have mastered an accent but doing his best to say "pensiere" and "dolce" without drawing embarrassment to himself.
He did, and it was interesting to read that — in a presumably slow news week in Berlusconi's Italy, which really should never be short on scandal — the populace (or at least their newspapers) were outraged. "The commitment is there," Reuters reports one Corriere della Sera critic wrote, but said commitment "cannot fill up the astronomical distance from the Italian ear." The mayor of the area had an admittedly imaginative response: "The difficulty that Hoffman finds in the recitation could symbolize the more universal one of coming closer to an unknown culture."
I've always associated Hoffman with the '70s Method wonder duo of De Niro and Pacino, even though he shot out of the gate earlier than either, lasted longer as a hitmaker and wasn't Italian-American. Which begs the question of why he was invited to come out as the best spokesman for an Italian region being marketed to Italians.
One answer, I suppose, is that Hoffman's no stranger to Italian advertising (see below). Another might be that the ad — in frankly perverse ways — dramatizes his struggle with the Italian language ("No no no!" he yells at one point), possibly as a way of emphasizing that once one struggles with Le Marche, then one achieves transcendence.
Foreign commercials with actors are a dime a dozen, but — at 72 — Hoffman doesn't need this kind of pain and criticism (I hope, anyway). Does Hoffman have some kind of cult following left over from 1972's "Alfredo, Alfredo" I don't know about?
Here's Dustin Hoffman shilling, self-deprecatingly, for Italian coffee, with his struggles with Italian culture once again foregrounded:
[Photos: Dustin Hoffman's Italian ad, Marche Region Tourism Department, 2010]