The Refrain: highlights and musings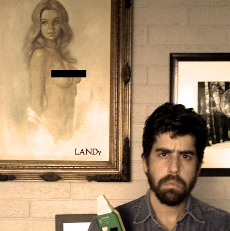 Posted by Brandon Kim on
It's my birthday (well, last night it was) and I've decided to take some liberties today reflecting back on some of my favorite revelations of the past months. Blogs move quickly, sometimes too quickly and I know from experience following my own bookmarked blogs that I miss a ton.
Have a look see at some things you may have missed while my "legally" blind ass heads to an eye doctor appointment. These are just things that amused me the most, not necessarily the most valuable contributions…
Adam Goldberg Interview
I've always liked Adam Goldberg and his characters but was a bit surprised to discover I liked his music too. I had a weird dream about him drawing my leg hair and then talked to him (in real life) about his band LANDy. He gives great interview. We premiered his great looking video for "BFF!" too, it's all linked there.
Hans Zimmer's Teutonic electronic flatulence
I can't fathom why Zimmer ends up on generally reputable people's best composer and best score lists. His work is the epitome of over produced, big budget, gas bag scoring.
Timothy Saccenti
I had a satisfying conversation with photographer/director Timothy Saccenti who's impressive work in the music world has many in awe. His beginnings in photography lead him down a path crowded with artists like TV on the Radio, Erykah Badu, The Rapture, Animal Collective, and Black Mountain. I talked to him just after he'd shot the video for Chairlift's, "Bruises."
Bad Lieutenant
Calling Herzog's inappropriately titled comedy for what it was early on. Expectations count for a lot, we don't experience films in a vacuum. Usurping Ferrara's legacy was a fatal mistake, though it has proven to be that of the chuckle head producers, and not herzog himself – who made an entertaining (though inferior) movie.
Michael Penn
My conversation with musician Michael Penn about current projects was quickly derailed into a verbal melee of social criticism, of which we were both on the same side. I couldn't print it all (would have been outrageously off topic and really long) but we got some good tidbits down. I'd hate to be on the wrong side of the Penn's, like his brother, you get the feeling Michael could murder you with a look as easily as he could charm you with a gesture.
"District 9"
Describing director Neil Blomkamp as the new onomatopoeia for the sound of success ™. And nailing it.
Hotel Chelsea, Stanley Bard, Sam Bassett
You can still have a grand adventure at the hotel Chelsea.

Alexandra hope
I love this video for her song "The Mirror," and it was a pleasure premiering it.
Carly Simon
Following WNYC's lead on revealing (partially) who Simon is singing about in "You're So Vain," after all these years!