What's worrying about the upcoming MLK biopic.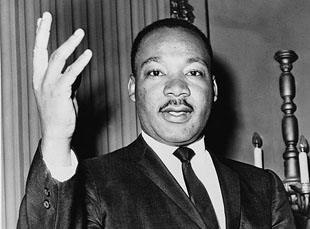 Posted by Vadim Rizov on
If you ignore Massachusetts and focus on film, today is a-buzz with the news that "(500) Days of Summer" director Marc Webb has been hired to direct three films in the rebooted "Spider-Man" franchise. Also in the works — a quieter announcement that Ronald Harwood is stepping up to write the long-gestating MLK biopic — "the first theatrical feature to be authorised by The King Estate to use the intellectual property of the late Civil Rights leader."
According to Mark Sourian and Holly Bario of DreamWorks, Harwood is "particularly suited to portraying this deeply personal story." But what the hell does that mean? What specifically qualifies a Jewish immigrant from South Africa who's spent most of his life in the United Kingdom to write a film about Martin Luther King, Jr.?
Looking at his resume, certain patterns emerge. From 1981 onwards, Harwood's screenwriting work (I'm unqualified to evaluate his ongoing stage output) is a perfect storm of movies that attract adjectives like "important" and "powerful" the way a magnet attracts iron filings.
In the '60s, Harwood started with frothy adaptations like 1966's "Drop Dead Darling" (starring Tony Curtis and Zsa Zsa Gabor!). In the less prolific '70s, you could see Important Movie danger signs in a little-loved adaptation of "One Day in the Life of Ivan Denisovich," but it wasn't until 1981 that Harwood truly hit his stride. It was that year that someone decided Faye Dunaway would make a perfect Evita Peron; Harwood did the mini-series honors, and ever since then — with very few exceptions — he's been grinding out titles that assume important subject matter makes for important movies.
There are the films about Great Men (Danny Glover as Mandela, the sterile "The Pianist"), Serious Subjects (apartheid in "Cry, The Beloved Country," hunting Nazi war criminals in "The Statement") and Classic Literature (adaptations of "Oliver Twist" and "Love In The Time of Cholera"). Many of these movies were tepidly reviewed and forgotten, but a few — "The Pianist" (which had the boost of Polanski's autobiographical involvement), "The Diving Bell and the Butterfly" — bamboozled a lot of people into thinking they were any good, maybe even great. I'd argue they're not — they're stodgy and unimaginative, filled with expository dialogue and heavy-handed thematics.
You may disagree, you may think I'm a total snob, but the question still stands. Who is this man who's made a career of flatten history into tales of Good vs. Evil or a Triumph of the Human Spirit? When Harwood took on Mandela in 1987, he valorized the controversial Winnie Mandela. That's not just a failure of research; it shows that Harwood's approach to the world is fundamentally inadequate, the most basic kind of biopic blandness.
Here's the first part of Harwood's take on Evita Peron, with Dunaway in full carnivore mood.
[Photos: MLK via Library of Congress; "Evita Peron," NBC, 1981]